National Security Operative Goes To Court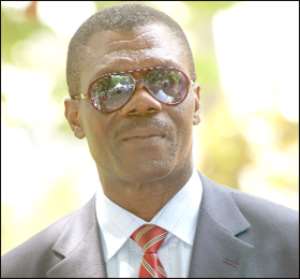 Lt. Col Gbevlo-Lartey, National Security Coordinator
KENNETH Gyan-Kesse has threatened to drag the government to court, seeking justice after being sacked from the National Security Council Secretariat (NSCS) for no apparent reason.  
According to Mr. Gyan-Kesse, a letter terminating his appointment, signed by the Acting National Security Coordinator, K.D Dankwa, dated May 29, 2009, said, "Your appointment is accordingly terminated with effect from June 1, 2009.
"In lieu with the required three months notice, you will be paid three months salary that is June, July and August 2009".
A former Assistant Analyst of the NSCS, Kumasi office, Mr. Gyan-Kesse says he was part of 130 staff of the NSCS across the country that had suffered similar fate under the sitting NDC government.
The affected 130 persons some of who were on contract with others working on the main stream, he noted, were sacked in batches, with the first batch comprising of 80 people whilst the second batch of which he was part, included 50 people.
Mr. Gyan-Kesse noted that he sensed foul play because no portion of his termination letter could pin-point what he did wrong to deserve being sacked, hence his decision of dragging his former employers to court for justice.
He stated, "Instead of stating what I did wrong, the letter said 'H.E. the President and the National Security Co-ordinator have asked me to convey to you their appreciation for your dedicated and loyal service to the Republic of Ghana'".
"If you state in the letter that you appreciate my dedication and loyal service, then on what basis are you sacking me?" he quizzed in a news release.
Mr. Gyan-Kesse could not fathom why the government should do politics with such a sensitive security outfit as the NSCS, noting that the move could have adverse consequence on the country's security.
From I.F. Joe Awuah Jnr., Kumasi