Legon Honours 2 Lecturers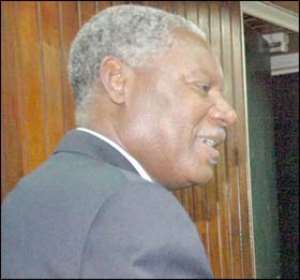 Prof. Clifford Nii Boi Tagoe
THE DEPARTMENT of Political Science at theUniversity of Ghana, Legon, has honoured two of its lecturers - Francis Kofi Drah and Prof Kwame Akon Ninsin, for dedicating their entire adulthood to the teaching, research and dissemination of knowledge in political science.
The two lecturers, who at various times acted as heads of the department, were rewarded for their dedication and commitment to the department.
Prof. Mike Ocquaye, 2nd Deputy Speaker of Parliament and a former lecturer at the department, in a speech, described the two gentlemen as true scholars who deserved to receive such honours.
Prof Oquaye said Mr. Drah supervised his PhD and encouraged him emotionally whenever he was down.
For their awards, they received a 'kente' cloth each and traditional sandals 'ahenema', in addition to citations.
Prof. J.R. Atsu Aryee, Dean of the Faculty of Social Studies, who read a citation for Mr. Drah, stated among other things: "As a lecturer, you taught several courses at both graduate and undergraduate levels and supervised students' theses and long essays.
Your favourite subjects are in political thought and theory, areas which most lecturers and students shy away from because of their abstract and challenging nature. Even in retirement, you still teach some of these courses to the admiration of all."
Born at Koforidua on December 23, 1937, Mr. Drah attended the Mfantsipim School from 1952 to 1957.
He continued at the then University College of Ghana from 1958 to 1961, receiving a University of London Bachelor of Science in Economics degree with a second class upper division in 1961. He served as research assistant, Department of Economics (Government Unit), University College of Ghana, Legon, from 1961 to 1962.
From 1962 to 1964, he earned a Master of Science in Economics degree at the London School of Economics and Political Science (LSE), UK. Rising through the ranks, Mr. Drah acted as Head of the Department of Political Science from 1980 to 1983 becoming the substantive head between 1987 and 1990.
Prof Ninsin's citation also partly read: "You have since 1976 served as a selfless, dedicated and hardworking lecturer in the Department of Political Science, University of Ghana. You have made a consistent and steady progression from the position of lecturer in 1976 to Professor in 1995.
"You have taught and mentored many political scientists who continue to make significant contributions as lecturers and researchers in the University of Ghana's Department of Political Science and other universities and institutions of higher learning and training.
"You have authored many well-researched books and published a good number of learned articles in reputable international and local journals.
"As head of the Department of Political Science, University of Ghana (1993-1998), Prof Ninsin provided excellent academic leadership by promoting and encouraging the publication, by the department, of major books on Ghana's politics which you either edited or co-edited".
He made a significant contribution to the curriculum development of the Department of Political Science, by restructuring the Bachelor of Arts (B.A) and Master of Philosophy syllabi of the Department in 2003 and 2008 respectively.
"You have performed many extra-mural and public service roles in Ghanaian society and politics, as for example, serving as a member of the Consultative Assembly that fashioned Ghana's fourth Republican Constitution (1992)and chairman of the Ghana National Committee Against Apartheid (1988-1990) forging closer ties between 'gown and town' ."
In separate remarks, the two gentlemen expressed profound gratitude for the honour done them by the department and urged the youth to build love for research and teaching, noting the socio-economic development of Ghana depended so much on such activities.
The Department, as part of the honour, named its conference room after Mr. Drah who has taught for 45 years and the internet-wired Library after Prof. Kwame Akon Ninsin for his 33 years teaching service.
The head of the Political Science Department, Prof. Kwame Boafo-Arthur, said the contributions of the two senior lecturers of the department cannot be quantified in monetary terms and urged other lecturers to emulate their good example.
The Vice Chancellor of the University of Ghana, , praised the department for honoring the two senior lecturers, adding that a nation which does not honour its heroes is not worth dying for.
By Salim Fari