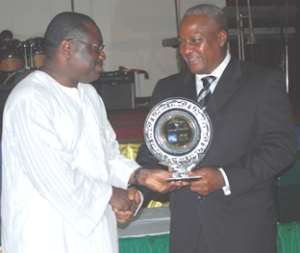 Stanbic Bank Ghana ranked topmost of the 2009 Ghana Club 100, breaking Scancom's stranglehold at the awards held Friday night.
The bank dislodged Scancom Ghana limited, operators of MTN, which has dominated the first position on the list of Ghana's most important companies for some considerably time.
Scancom slipped to second position at the awards ceremony held at the Banquet Hall of the State House in Accra.
In this year's rankings, calculated based on the companies' size, growth and profitability, Toyota Ghana Ltd., Kasapreko and UT Financial Services came third, fourth and fifth respectively.
The Ghana Club 100, is a programme designed by the Ghana Investment Promotion Centre (GIPC) to identify and award Ghana's best 100 companies according a certain criteria.
The Awards saw new entrants such as IPMC and Comet properties Ltd doing extremely well.
IPMC took the ninth position and was adjudged the best company in the education category.
Standard Chartered Bank took a special award for best company in corporate social responsibility.
Rural banks swept many awards at this year's ceremony.