German Govt Gives Grant For International Forest Instrument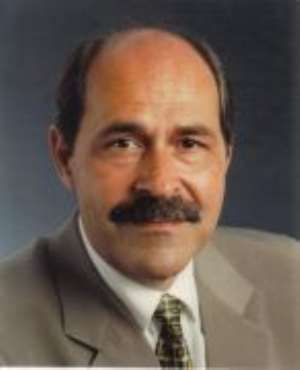 Dr Marius Haas,German Ambassador to Ghana The German Government has given a 200,000 euros grant for the implementation of the International 'Forest Instrument.'
Forest Instrument is an international, non-legally binding agreement adopted by member states of the United Nations Forum on Forest, with the aim to improve the protection and sustainable management of their forests resources.
Ghana is committed to the agreement and is the first developing country making conscious effort to implement the instrument. The project Consultant, Mr David Guba Kpelle, who disclosed the amount at a sensitisation workshop here last Wednesday, said implementation of the instrument will enhance sustainable forest management by reducing deforestation and forest degradation in the country.
It was organised by the Forestry Commission in collaboration with the United Nations Food and Agriculture Organisation (FAO), the Forestry For a Ashanti, Central, Western and Brong-Ahafo and the Growing Forest Partnership (GFP) Initiative under the theme, 'Implementing the International Instrument in Ghana.'
Mr Kpelle indicated that the instrument will not replace the current major national initiatives and policies such as the 1994 Forest and Wildlife Policy and the National Forest Programme also known as the Forestry Development Master Plan introduced in 1996.
'It will only help us to systematically assess all policies and initiatives that have been implemented so far, identify out strengths, weaknesses and gaps, so we can determine priority actions to move forward,' he emphasised.
He said the money will be used to assist stakeholders in the forestry sector in ensuring the implementation of the instrument.
Miss Evy-von Pfiel, a representative from the German Technical Corporation, in her presentation said that Ghana, under the Instrument will be expected to review the implementation of her existing policies and initiatives to focus attention on the relevant areas to enhance sustainable forest management.
She said Ghana will also be expected to utilise existing multi-stakeholder consultation processes to assess the country's forestry status so identify the areas that needed special attention which would help determine the priority actions to be taken.
She was hopeful that Ghana, being the first developing nation to start implementing the instrument will be in a better position to address the problem of deforestation and the forest degradation.