Rawlings calls on Togolese President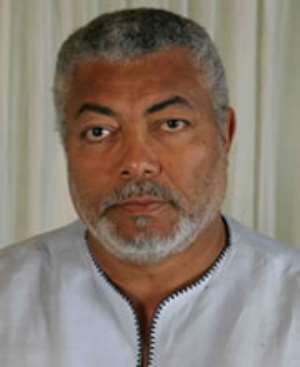 Jerry John Rawlings

Former President Jerry Rawlings on Monday commended President Faure Gnassingbe of Togo for the strides his country is making in developing a sustainable democratic dispensation.
President Rawlings said the new wave of political morality that is sweeping across the globe should not be lost on African countries including Ghana and Togo as "our peoples have been the victims of the past ten years when the world's powers seem to have lost moral focus in managing international politics."
The former president made these statements during a one-day visit to the Republic of Togo where he paid a courtesy call on President Faure Gnassingbe.
Accompanied by former Commanding Officer of the Ghana Armed Forces, General Arnold Quainoo and special aide, Kofi Adams, President Rawlings said his visit had been primarily necessitated by anxieties raised by chiefs and queen mothers of towns and villages bordering Togo over security concerns as Togo prepares for its general elections.
"These opinion leaders had genuine anxieties about security concerns that may affect their daily livelihood as they transact business with Togo on a daily basis and some actually commute to visit family members in Togo," President Rawlings said in a briefing after the meeting.
President Faure Gnassingbe was grateful to President Rawlings and Ghana for the visit and declared that Togo was ready to collaborate with Ghana to ensure that peace and security within the border areas was maintained.
The Togolese President assured former President Rawlings that every effort would be made to ensure that the forthcoming elections are peaceful, free and fair. "What happens in Togo affects Ghana and what happens in Ghana affects Togo and we will work to ensure that all goes well," President Gnassingbe assured.
In attendance from the Togolese side were the Ministers of Defence and Security, Interior, Regional Integration and Justice. Also present was the Togolese Naval Commander.