Gatwick cocaine-smuggling suspect held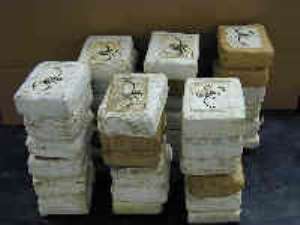 An airline cabin crew member has been charged after cocaine was seized at Gatwick Airport.
Officers from the UK Border Agency discovered the drugs, weighing about two kilos and with an estimated street value of £98,000, in baggage that had arrived on a Ghana International Airways flight from Accra.
Kwaku Asante Ayirebi, a 30-year-old Ghanaian national, has been charged with attempting to smuggle drugs into the UK.
HM Revenue and Customs said he will appear at Mid Sussex Magistrates' Court later.
Bob Gaiger, HMRC Gatwick spokesman, said: "Crew members are subject to the same customs checks as any other person when entering the UK.
"HMRC together with UKBA plays a vital role in the fight to prevent illegal drugs from entering the UK and in protecting our communities from the violence and corruption that always accompany this hideous trade."