Ga Mantse Calls For Unity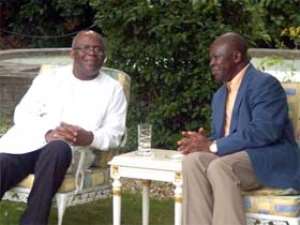 King Tackie Tawiah III and Otumfuo Osei Tutu II
The Ga Mantse, King Tackie Tawiah III, has indicated that politics which is gradually finding its way into chieftaincy in Ghana ought to be condemned by the masses while traditional rulers join heads to win the trust and confidence of society.
This, he said, would enable traditional rulers to get involved in the country's development agenda.
King Tawiah III stated that "active political party activities are of no special interest to traditional rulers; whichever political party is in power has the overriding authority, and the responsibility of us as heads of traditional areas is to first ensure effective understanding among ourselves so as to ensure the ultimate for our people".
King Tawiah III was in London recently to hold diplomatic talks with UK government bureaucrats on the educational as well as youth development needs of the Ga State. He also paid a courtesy call on the Asantehene, Otumfuo Osei Tutu II, at his London residence.
Both leaders conferred on issues relating to education, culture, social development and health in their various Kingdoms in Ghana.
In fast-tracking rural growth, they called for mutual arrangement between governmental and non-governmental agencies to aid development.
However, Otumfuo Osei Tutu II expressed delight in the tremendous rapport among traditional rulers in the country, a virtue he asked the citizenry to mimic positively, irrespective of their party affiliation.
"Unless differences are put away and the people develop and maintain an achievable focus, little or nothing will be achieved as a nation," he said.