Clearing Agent in Police custody for possessing human parts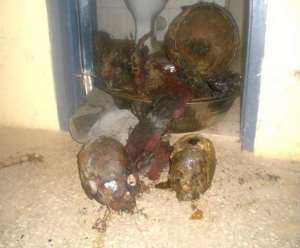 Ho, July 20, GNA - Daniel Akpalu, 38, a clearing agent at Aflao, was arrested at the weekend for threatening the life of a National Security Operative and for possessing two human skulls.
Police picked Akpalu over the threat but a tip off led to discovery of the skulls.
Deputy Superintendent of Police Edward Konyel, the Volta Regional Crime Officer, told the Ghana News Agency in Ho on Monday that the skulls were found in Akpalu's house.
He said padlocks and chains were fixed through the jaws of the skulls which were in a pot stuffed with residue of palm nut and smeared with what looked like palm oil.
Mr Konyel said about 50 knives were also thrust into the pot holding the skull.
He said Akpalu was being processed for court over the threat case while investigations on the source of the skulls continued.
GNA