Government will crack the whip if...- Okudzeto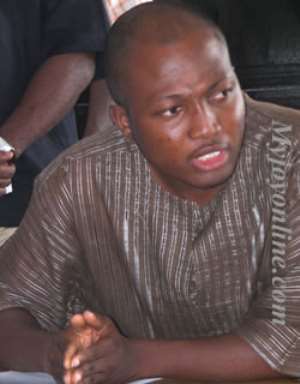 Deputy Information Minister, Samuel Okudzeto Ablakwa








Listen to Okudzeto speaking on an audit report at the Information Ministry
A Deputy Information Minister, Samuel Okudzeto Ablakwa has threatened the government will crack the whip on former appointees at the ministry if they are found culpable of corruption uncovered there.
"I can assure you that if we have to crack the whip after we have reached a logical conclusion on this matter, the whip will be cracked," he told Joy News.
An audit report on the ministry for the period October 2006 to December 2008 uncovered the loss of several millions of Ghana cedis through various acts of malfeasance perpetrated at the ministry.
The report, released by the Audit Service, also reveals that 22 vehicles belonging to the ministry either did not have any documents covering them or had documents vesting ownership in the names of the vendors who sold them to the ministry.
Mr Okudzeto said the ministry is investigating the issues and will act swiftly when the facts are established.
"We don't believe that we have to wait any longer, the hemorrhage is quite frightening," he stated.
The Audit report urged that fuel coupons issued to vehicles, as well as the movement of those vehicles, be entered into their respective log books to help check malfeasance.
According to Mr Okudzeto, the ministry has started implementing some of the recommendations contained in the report.
Story by Malik Abass Daabu/Myjoyonline.com/Ghana