Pope breaks wrist in fall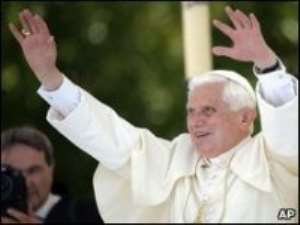 Pope Benedict XVI has suffered a small fracture to his wrist after falling while on holiday in northern Italy, the Vatican and hospital officials say. The Pope, 82, went for a check-up at a hospital in the alpine town of Aosta.
"It is nothing serious," Vatican spokesman Father Federico Lombardi was quoted as saying.
Reports say the Pope walked into the hospital with an aide. Pope Benedict, elected pontiff in 2005, was formerly Cardinal Joseph Ratzinger.
An official at the Aosta hospital where the Pope was taken told Italian news agency Ansa that checks were continuing, but that first results showed "a small fracture to the right wrist".
The Pope's wrist was X-rayed, hospital officials and the Vatican said.
The pontiff has been staying at a house in the village of Les Combes in the Valle d'Aosta region. It was a favourite