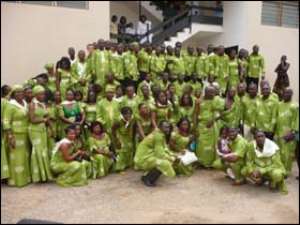 Staff of Peace FM
Management, staff, friends and well-wishers of Peace FM last Sunday organized a church service to thank God for his guidance and blessings throughout the station's 10 years of operation.
The ceremony was organized to climax a month-long anniversary celebration of the station.
The church service which was held at the World Miracle Church International at Dzorwulu in Accra was attended by members of the church, musicians as well as personalities including the Chief Executive of the station, Osei Kwame Despite and the Minister of Information, Mrs Zita Okaikoi.
On arrival at the church, the staff, friends and well-wishers of Peace FM were given a rousing welcome by the church members and pastors led by Bishop Charles Agyin Asare.
The staff of the station sang praise and worship songs to show appreciation for what God has done for them throughout the years.
Peace FM which is a division of Despite Group of Companies was established on May 25, 1999 and its contribution to national development has been widely acclaimed resulting in several awards being conferred on it, including Radio Station of the Year 2006.
Other laurels include applause from President Mills, Vice President John Mahama, ex-President John Kufuor, the Information Ministry and several other dignitaries.
Thousands of people travelled far and near to join Peace FM to participate in the various activities to mark the celebration.
Some of the activities included blood donation, football match, and peace walk among others.
Speaking to BEATWAVES, Fadda Dickson said the station would continue to focus on its core function of educating, informing and entertaining listeners, adding that it was going through a restructuring exercise to make its programmes more educative, informing and entertaining. By George Clifford Owusu