'You Shut Up': PC Ofori Tangoes With Woman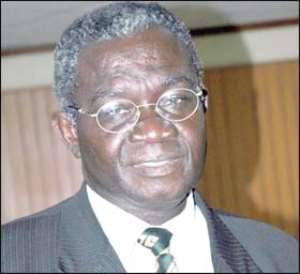 Hon P.C. Appiah Ofori
, the Member of Parliament for Asikuma Odoben-Brakwa who caused ripples on the country's political waters before proceeding on a foreign mission a fortnight ago, has returned with a vengeance, charging mercilessly on Mrs. Larbi Mensah, a business woman who accused him of duping her to the tune of GH¢46,000.
Speaking on an Oman FM programme, he showered Akan invectives such as "kwasia!; wo ye kwasia!!" to wit, "nincompoop!; you are a nincompoop!!" on the woman who was at the other end taking her turn to state her case.
PC OFORI: "Take me to court. When did I take your money? You gave me money? Kwasia. Liar. I would sue you".
Mrs. Larbi Mensah: "You gave me a dud cheque which is with me here. I have written to the Speaker, the Majority and Minority leaders over the issue. I respect the legislature and if they ask me to go to court, I would do so."
PC OFORI: "Is the Speaker a debt collector? Shut up!"
Mrs. Larbi Mensah: "You too shut up! You are an honourable member and should not speak like this".
The host, Fiifi Boafo, reminded his guest that he should mind his language to no avail, as the MP continued with his invectives.
In the end, the host was compelled to apologise to listeners for what transpired when the MP was on air.
It would be recalled that shortly after his explosive allegation that New Patriotic Party (NPP) MPs had collected $5000 before voting on the Vodafone deal, a businesswoman, Mrs. Faustina Larbi Mensah, questioned the integrity of anti-corruption crusader PC Appiah Ofori, demanding from him an outstanding amount of GH¢46,000, being money she claimed to have paid him to supply her with fish which was not delivered.
This culminated in the clash on Oman FM yesterday.
The woman, Ms. Faustina Larbi Mensah, was demanding from the Asikuma Odoben-Brakwa MP, documents she gave him to process a UK entry visa which was never done.
Mrs. Larbi Mensah, during an interview with Fiifi Boafo of Oman FM, said she paid an initial amount of ¢100 million (old cedis) to the and his sister, Anti Fausti, who lives at Community 10, Tema, for the supply of fish.
The MP, she explained, is the Managing Director of Dina III Fishing and his sister, Deputy Managing Director.
The company supplied part of the consignment due, but the MP, she added, came back to demand another amount of money to tackle a problem.
This raised his indebtedness to ¢170 million, she said, adding that he returned to ask for more money after claiming that the insurance cover of the vessel had expired.
After waiting for a while without receiving her supplies, she became edgy and got in touch with him but he said the operations had encountered a problem and that he would make good his side of the transaction when all went through.
Continuing, she averred that the MP's nephew, Elvis Peprah, came to tell her that his uncle had asked that she gave him some money for engine oil for the vessel.
When she spoke to him, she added, the MP confirmed the request after which according to her, it became impossible to get him on phone, as his gadget was always off.
That was in June last year, she said, explaining that one day while working at Mankoadze, a certain Mr. Koto came and sought a meeting with her over the outstanding money. The man told her that Hon Appiah Ofori said because of his schedule as MP, he was too busy.
According to her, cheques in the name of Dina III given to some women who had provided money for the business bounced.
Since June last year, "my money has remained with the MP and I was compelled to petition the Speaker, Majority and Minority leaders over the matter. I asked them to intervene in the matter.
Why should an honourable man treat a woman like this? Mr. P.C. Ofori has fooled me.
"Does the MP know that it is an offence to issue a dud cheque? I have all documents about the transactions including the dud cheques in my custody?"
She also pointed at the MP's inability to fulfill his promise of securing for her an entry visa to the UK when her son was going to graduate in that country upon completing his first degree.
The MP, she explained, took a number of documents from her including receipts covering certain transactions. These, she said, he had not returned to her after all this time.
Meanwhile, the Privileges Committee of the NPP will summon P.C. Appiah-Ofori any day now, DAILY GUIDE has learnt.
The paper also gathered that the MP's date with the committee is in respect of his recent allegations that NPP legislators had collected $5000 each to approve the Vodafone deal.
By A.R. Gomda