NAM Must Reappraise Its Role - Prez Mills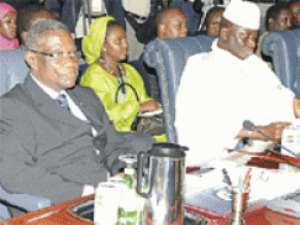 President John Evans Atta Mills at the conference of the Non-Aligned Movement. Sitting next to him is President Yahya Jammeh of The Gambia.
President John Evans Atta Mills has called on members of the Non-Aligned Movement (NAM) to reappraise the role of the movement on the world stage and adapt it to the new realities.
President Mills made the call when he addressed the 15th Summit of Heads of State and Government of the NAM in the Egyptian resort city of Sharm el Sheikh yesterday.
The NAM was established to assist member states in their "struggle against imperialism, colonialism, racism and all forms of foreign aggression, occupation, domination, interference or hegemony, as well as great power and bloc politics".
The President observed that with the end of the Cold War and the attainment of independence by many countries, however, the remit of the movement had somewhat become obsolete and rather brought to the fore new challenges which made the global solidarity of NAM even more relevant.
Touching on the global financial crisis, President Mills pointed out that initially it was thought that developing countries, particularly those in Africa, because of their largely weak integration with the rest of the global economy, would not be affected that much.
However the reality, he said, was that the knock-on effects from the financial instability and economic recession in industrialised nations were having a compounding toll in terms of high fuel costs, rising food prices, loss of jobs, drying credits and many others on the economies of developing countries.
President Mills observed that another set of challenges to member states of the NAM was the rapid depletion of forests, fauna, fish stocks, increasing desertification, rising sea levels, flooding, altered patterns of rainfall and climate change, all resulting from global warming.
'We may have defeated colonialism, apartheid and many forms of racial discrimination, but our plight as the world's poor is not likely to change unless the NAM, among others, comes up with new solutions to these challenges," he stressed .
According to the President, it was the conviction of Ghana that the movement should continue to play its role as a moral force in international politics, adding that it should endeavour to entrench in the international system the ideal that international controversies and disputes must be resolved by principled dialogue and not military might.
The NAM was born in the Cold War era, as the Eastern and Western military blocs confronted each other.
A number of small and medium-size countries sought to pursue the principle of an independent, democratic policy without alliance with any power or bloc.
In 1961, the first NAM Summit was held in Belgrade. Twenty-five countries attended, marking the beginning of the NAM.
The movement has since supported peoples of all countries in their struggles for independence, sovereignty, development of the economy and establishment of a new international political and economic order.