Youth storm Parliament over youth policy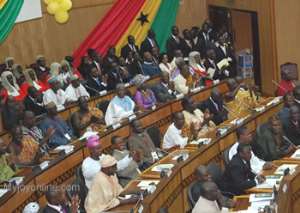 About forty young people Wednesday stormed Parliament to demand an immediate implementation of the National Youth Policy.
They said they could no longer bear delays by successive governments in implementing the youth policy.
The protesters had a difficulty accessing Parliament as security personnel prevented them from entering the building.
But they persisted and some of them managed to put some leaflets in the pigeonholes of some of the Members of Parliament, reported Joy News' Sammy Darko.
One of the leaders of the protesting youth, Prosper Hoetu told Sammy Darko there was no justification for the government to stall the implementation of the youth policy under the guise of reviewing it, having been adopted by the previous government.
He said if the government has any difficulties with the document it should say so, instead of just quietly holding onto it.
Mr Hoetu argued that the policy in its current state had inputs from the youth and political party youth representatives when the final document was being drafted.
He contended that nothing prevents the government from starting with the implementation and fine tuning it later if need be.
Story by Malik Daabu/Myjoyonline.com