BBC: Obama on first sub-Saharan trip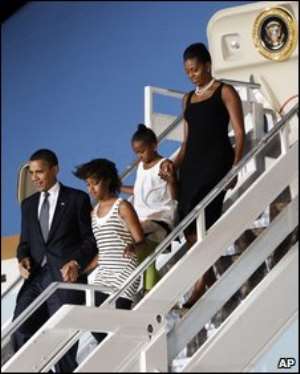 Obama's arrival in Ghana

Barack Obama is making his first trip to sub-Saharan Africa since taking office, visiting a nation chosen for its democratic record, Ghana.
The US president will deliver a speech outlining his hope that good governance can flourish across the continent.
He will also visit a historic slave castle alongside his wife Michelle, a descendant of African slaves.
People have poured into the capital, Accra, for a glimpse of the president during his 24-hour stay in Ghana.
Mr Obama arrived in the capital late on Friday, fresh from a G8 summit in Italy where the world's eight most powerful nations agreed on a $20bn (£12.3bn) fund to bolster agriculture - the main source of income for many sub-Saharan Africans.
Just before leaving for the Ghanian capital, Accra, he said: "There is no reason why Africa cannot be self-sufficient when it comes to food".
He said Ghana had been chosen for the visit because of its strong track record of democracy and stability.
He is also scheduled to hold talks with President John Atta Mills.
"Part of the reason that we're travelling to Ghana is because you've got there a functioning democracy, a president who's serious about reducing corruption and you've seen significant economic growth."
The BBC's Will Ross says President Obama will find it a challenge in the current economic climate to match some of the achievements of his predecessor, George W Bush, when it comes to health care in Africa, especially in the fight against HIV.
The visit to the slave fort at Cape Coast Castle will be a poignant moment for the country's first African-American president and for his wife Michelle, whose ancestors are believed to have come from West Africa, our correspondent says.
Tight security
Posters of Barack and Michelle Obama are to be seen everywhere in Accra, where their arrival was eagerly awaited.
The White House reported that over 5,000 Africans had sent text message to the US president ahead of the visit.
On arrival, President Obama and his family were met by President Atta Mills, and treated to a colourful welcome featuring drummers and traditional dancers.
Ghanaian musicians have written songs to mark the visit and it is clear that millions of Ghanaians would love to see Mr Obama, our correspondent says.
However, there will be few opportunities for them to do so during his 24-hour stay.
When former President Bill Clinton came more than a decade ago, he addressed hundreds of thousands of cheering Ghanaians.
But post-9/11, security is tighter and all events are for invited guests only, our correspondent notes.
Barack Obama visited sub-Saharan Africa while a US senator, making a trip to Kenya - his father's homeland - in August 2006. Cape Coast, a town about 160km (100 miles) west of Accra, has even suspended funerals on account of Mr Obama's impending visit to its old slave fort.
"We banned all funeral activities in Cape Coast because we want to give a befitting welcome to the US president," Ghana's central regional minister, Ama Benyiwaa Doe, told AFP news agency.
"The dead can be buried later but Obama is here for once and we must pay all attention to him."