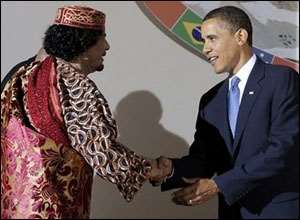 Leaders of the G8 developed nations have pledged $20bn (£12bn) for efforts to boost food supplies to the hungry, on the final day of a summit in Italy.
The investment, which is $5bn more than had been expected, will fund a three-year initiative to help poor nations develop their own agriculture.
AFP news agency quotes a G8 statement as saying there is "an urgent need for decisive action" on hunger and poverty.
African leaders had earlier urged G8 nations to live up to past aid pledges.
BBC economics correspondent Andrew Walker says the idea is to put more emphasis on helping people feed themselves.
That is to be achieved with more investment in the agriculture of developing countries, and the G8 nations - Britain, Canada, France, Germany, Italy, Japan, Russia and the US - will provide significant resources, our correspondent adds.
However, although the total amount of overseas development aid (ODA) was increased in 2008, the rich countries are still behind on their target to double aid that was made at the G8 Gleneagles Summit in 2005 - and Italy is among the laggards.
Not all the money pledged to the agriculture initiative at the summit in the Italian city of L'Aquila will be new funding.
Kanaya Nwanze, president of the International Fund for Agricultural Development, told the BBC that he welcomed the announcement of more investment in agriculture in the developing world.
"It is time for us to switch because food security is not just food aid," he said.
"It is the ability of people to produce food locally and for them to be able to have access to local markets."
Mr Nwanze said he expected US President Barack Obama to call for support on Friday from the G8 and other emerging economies for the agriculture initiative.
The US will reportedly contribute some $3.5bn to the programme.
Mr Obama was to meet representatives of Angola, Algeria, Nigeria and Senegal in L'Aquila, before meeting Pope Benedict XVI in Rome and embarking on an African tour later on Friday.
Ethiopian Prime Minister Meles Zenawi, who is also attending Friday's talks in L'Aquila, told Reuters news agency that the key message from African nations was that the G8 had to live up to its commitments.
Advertisement
Aid organisations have criticised some members for failing to deliver on the promise made at the 2005 G8 summit to increase annual aid levels to sub-Saharan Africa by $25bn by 2010.
BBC