Nigeria, Kenya wild over Obama Ghana trip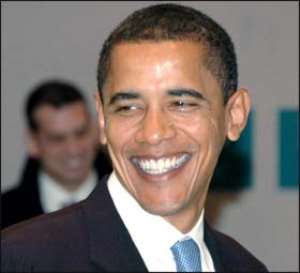 US President, Barack Obama Ghanaians may be rejoicing at the news that the First Black American President Barack Obama has chosen to visit their country on his maiden trip to Africa as President; but the mood of their neighbours in Nigeria is a far-cry from what pertains in the former Gold Coast.
A cross-section of Nigerians has expressed disappointment at US President's visit to Ghana instead of their country.
According to a recent BBC report, the sulking comments of Nigerians with regard to the US President's visit to Ghana attest to their remorse.
A retired Nigerian diplomat who was asked to comment on why President Obama chose Ghana instead of 'the Giant of Africa', as Nigerians love to call their country, said a lot has gone wrong in Nigeria in the last couple of years.
He said perceived systemic corruption has led to distrust in important circles and that the current economic downturn has meant that the government can no longer back its diplomacy with funds.
He argued that for him, the most important reason why President Obama chose Ghana over his country is that Nigeria has not been seen to demonstrate any serious interest in matters beyond its shores.
"Yes indeed Nigeria is the giant of Africa but has she demonstrated that politically? No," another person commented.
The remorse is not peculiar to Nigeria, as Kenyans have also complained, insisting that since the US president traces his lineage to that part of Africa, he should at least make a whistle stop there while on a visit to the continent.
But Kenyan Foreign Minister explained that Barack Obama is the president of a sovereign state, and the decisions he takes are based on consultations.
According to him, the people and government of Kenya have no control of the diary of President Obama, and that people must face realities.
President Obama himself told allafrica.com three days ago that he chose Ghana because of its track record with regard to democracy and good governance.
However, the online edition of a Kenyan newspaper, Daily Nation, downplayed Ghana's democratic credentials as the reason for the Obama trip, saying that there is more to the US president's trip to Ghana than democracy.
"Controversial or delicate matters – such as the US Africa Command (Africom), narcotics trafficking and Ghana's oil deposits – will almost certainly be on the agenda for the US leader's talks with Ghanaian President John Atta Mills," it contended.
"There are rumblings that the real reason the administration chose Ghana is two-fold: Ghana's discovery of oil in 2008 and perhaps more importantly, the geographically, economically, and politically strategic advantage of establishing Africom's headquarters there," the paper quoted Mr Lemelle, the director of the Africa Action NGO, as saying.
"US officials have expressed alarm over West Africa's growing role in the global narcotics trade. And Africom is being used to combat drug trafficking in Ghana and other countries in the region," it concluded.
Many Ghanaians are however of a different opinion, with members of both the ruling National Democratic Congress (NDC) and opposition New Patriotic Party (NPP) putting aside their political colours to hail the historic visit.
By Mohammed Muniru Kassim