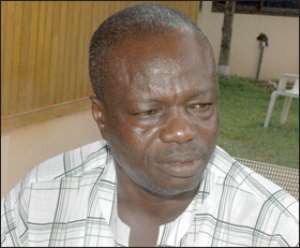 Kwesi Biney Before any reader misinterprets my headline, let me explain that the Akans normally refer to prominent and very successful and distinguished citizens in our communities as OMAMA or better still Nyimpa Omama, to wit, a person of honour.
I think I have made myself clear. In this era of adults being taken through school in the pronunciation of Obama, let no one put any words in my mouth and say that somebody, in welcoming somebody, called him Omama, Osama, Omaba, Obaami or whatever. I think we have gone past the era of ecomini and Okumfuo and the rest.
Fellow Ghanaians, should we not be proud that when the first Black-American President of our generation decided to visit the African continent, he chose to choose Ghana as his first step?  God really has blessed our homeland Ghana.
The sad point in our lives is the fact that we as a people do not appreciate our blessings. We keep on quibbling and tearing ourselves apart politically in a tit-for-tat fashion on the mistakes our forbearers of our nationhood made and use those mistakes as reasons to continue to inflict hatred on a generation which was by and large not a party to the benefits of those who inflicted pains on one section of our forbearers nor the victims of those pains in whatever form.
Back to President Obama's visit to us. Since the past 11 years or so, our dear country has had the privilege of playing host to three sitting Presidents of the most powerful nation of the world, the United States of America; and in each of these visits, some benefits have accrued to this nation.
I am sure by talking of benefits, many of our compatriots would link it to material benefits. Yes, economic support by way of  financial  support. Benefits in my view should not be viewed only in terms of immediate financial and economic gains but long-term outcomes of such visits.
It is sad to state that the ordinary Ghanaian today has become so dependent on others to the point that it has become scary for one to even pay visits to relations or friends particularly when the one paying the visit is relatively better off, socially and economically than those he or she is visiting. It is common these days to hear people say, "ei, mahu wo yi dzi, medzidzi", to wit, "once I have seen you, my hunger is gone". 
And before President Obama would visit, as usual, Ghanaians have raised their expectations of what to get from the American President.
There are some who even believe that as part of President Obama's visit, the American Embassy in Ghana should ease visa processes and open up to those who want to migrate to the US. For me, the most important benefit to this country in as far as the visits of the American Presidents are concerned is the advertising that these visits portray this country to the outside world.
The fact that some of our African compatriots are envious of these high-profile visits to our country is an indication that the outside world sees something in us that we ourselves do not even see.  
People in other countries will begin to find out what it is that Ghana has attracted such high-profile visits from American Presidents. In the process, they will be learning about us and in the process again, we may attract investors into this country.
The thinking in the minds of those who do not know Ghana will then be that, if American Presidents of the two major political groupings see something good in this small country, then it is worth doing business with that country.  We are a people with pride, but gradually we seem to be eroding that pride individually and collectively through our beggary attitudes.
Poverty is not eliminated through begging or better still through overdependence on others. It is only hard work, sacrifices, honesty and visionary planning that eliminate poverty and ensure higher standards of living for a greater percentage of our populace. Let us reduce our expectations.  
It is also important for people to accept the realities of our global situation, let us also break away from the cold war political divide which negatively affected our internal politics and get more united even when we disagree with each other on politics, social and the economic directions of our country.  There is a certain political hypocrisy in our body politics.
There are these group of people who hate Americans and their allies to the core, yet when America and its allies dole out pittance to feed our hungry mouths, we accept them with glee.
I remember a period in our political history when some radical revolutionaries took control of this nation. They ate and drank anti-American jargons. But when they fell out with their revolutionary masters, they did not run away to the capitals of  mega revolutionary countries.
They landed in the capitals of the very countries they had vehemently condemned in the most vitriolic manner for their safety and security. Indeed many of them, very intelligent guys, took advantage of the liberal environment of those they hate to further their education in those countries. Today, they are playing no mean role in our socio-economic and political life.
President Obama is here with us, we are all very happy not because his presence or otherwise is the final determinant of our survival as a people, but it also adds to our international image collectively and it is important that we do everything possible to ensure a successful visit and continue to maintain the very good relationship that our political generation has carved between the two nations.
Internally, let us begin to respect ourselves since others out there have so much respect for us. It is unfortunate that President Obama's visit has met with rains such that not many of us will have the opportunity to see him physically, even if from a distance, but let us take consolation in the fact that he is here with us. How happy we should be.
Welcome Obama, worthy son not only of Africa but the world.
By Kwesi Biney