Tanzania 'finds Comoros victims'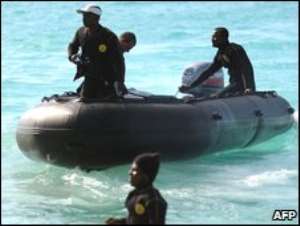 Debris and bodies thought to be from the plane that crashed off Comoros in the Indian Ocean last week have washed up on a Tanzanian island, police say.
A regional police commander said crash investigators in the Comoros had been informed of the find.
Security forces have been deployed to Mafia Island, several hundred miles north-west of the Comoros, to search for more bodies.
The plane came down in bad weather with 153 people on board on 30 June.
A 12-year-old girl - Baya Bakari - was the only known survivor. She was found clinging to debris some two hours after the crash.
Many of the passengers were travelling to the Comoros but had begun their journey in Paris or Marseille on another jet operated by Yemenia, the national airline of Yemen, before boarding flight IY626 in Sanaa.
Officials on Mafia Island said the bodies began washing ashore on Tuesday.
Five were found in the afternoon, and by 2100 local time the number had risen to 13.
Absalom Mwakyoma, regional police commander of the Coastal Province, said bits of wreckage had also been found indicating it could be from the Yemania plane.
"All responsible authorities including and island citizens have helped tell us where to find the bodies, for example there are unconfirmed reports that there are other two bodies found in an island called Nyoni," he told BBC Swahili.
The bodies were being sent to a mortuary in Dar es Salaam, he said.
Over the weekend, investigators said a signal had been detected from the flight data recorders of the Yemenia Airbus 310 airliner.
Yemenia says that bad weather - strong winds and high seas - was the more likely cause of the crash.
The Comoran community in France held protests in both Paris and Marseille, saying that the 19-year-old aircraft had not been fit for service.
France's transport minister has said that Yemenia will be "under strict surveillance", and would have to make "big efforts" to avoid being placed on an EU blacklist of airlines banned from entering Europe.