Kumasi Market Fire Victims Asked To Stop Rebuilding Structures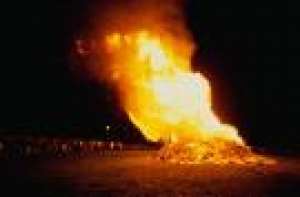 The Kumasi Metro politan Assembly has advised victims of the recent fire outbreak of the Kumasi Central Market to stop rebuilding their structures.
The assembly said it would definitely demolish those structures to reconstruct the market into a modern one to befit the status of the city.
The Metropolitan Chief Executive, Samuel Sarpong, said this in response to questions by assembly members at the first sectional meeting of the assembly.
The Mayor was worried that some people were politicising the reconstruction of the market which, he said, had been on the drawing board as far back as 2001.
"But, we will not sit down for a few selfish individuals to thwart our efforts," he indicated and said a construction firm, Messrs Country
Development Contractors, had expressed interest to re-build the market.
Mr Sarpong said the KMA would embark on a decongestion exercise soon to clear the pavements and walkways to bring sanity in the central business district.
Expressing concern about the sporadic and uncontrolled use of road-sides, pathways, school sites and roundabouts for the sale of second-hand vehicles, the Mayor said a 45 acre land at Apiadu was being considered to re-locate the car dealers.
Under the Kumasi street naming and house numbering project, he said a zip code system had been developed with the Land Valuation Board serving as a guide while a zip code town/community maps were being produced to facilitate the movement of tourists and visitors within the metropolis.
He said GH¢813,872.90 out of GH¢1,200,000.00 project cost had been spent as of November 1, 2008.