US serial killer 'shot by police'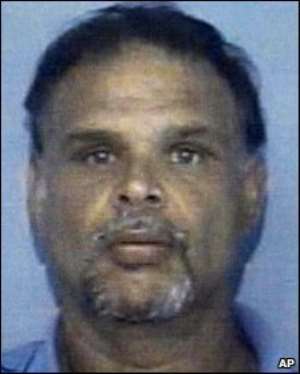 Police in the US say they have shot dead a serial killer who had terrorised a town in South Carolina.
Patrick Tracy Burris, 41, was killed during an attempted burglary 30 miles (48km) from Gaffney, South Carolina.
Bullets in his gun reportedly matched those used in the murders, which saw five residents of Gaffney shot and killed within a few days of each other.
Police said Burris had a long criminal record, and had been released on parole in April after serving eight years.
"Look at this," State Law Enforcement Division (SLED) Chief Reggie Lloyd told a press conference, waving a copy of Burris' criminal record.
"This is like 25 pages. At some point the criminal justice system is going to need to explain why this suspect was out on the street."
Previous charges filed against Burris included larceny, forgery and breaking and entering in several states in the south-eastern US.
Police say they still do not know the motive behind the killings.
"He was unpredictable. He was scary. He was weird," the deputy director of the SLED, Neil Dolan, was quoted as saying by the Associated Press.
"We have him. He's our serial killer," Mr Dolan added.
The killings all occurred over six days within about 10 miles (16km) of each other in Cherokee County, a rural community some 50 miles west of Charlotte, North Carolina.
A peach farmer was killed on 27 June, an 83-year-old woman and her daughter were found bound and shot four days later, and the following day a father and his teenaged daughter were shot in their family's furniture shop.
Burris was shot dead by officers responding to a burglary complaint at a home in Gastonia, in neighbouring North Carolina.
Police say an investigation is under way to determine if he was involved in other unsolved crimes in the area.