Resuscitate Instant Money Transfer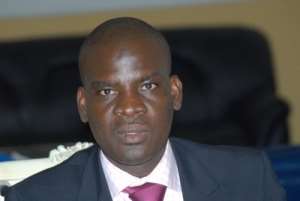 MR Haruna Iddrisu, Minister of Communications, has called for the immediate resuscitation of the Instant Money Transfer (IMT) services, operated by the Ghana Post in order to generate income for the cash trapped organisation.
"We all know that the IMT services were very viable and helped to generate a lot of income for Ghana Post," he said.
Inaugurating a seven-member board of directors for Ghana Post in Accra on Friday, Mr Iddrisu charged the body to also review all collaborative efforts of the Ghana Post with ADB for the Western Union Money Transfer system, with Ghana Water Company for the collection of water rate charges since they all raked in money for the organisation.
"There are other revenue generation opportunities which are currently unrealised but which are fully available to Ghana Post such as business-to-business mail and delivery of utility bills," he said.
Mr Iddrisu called for the institutionalisation of the culture of performance contract with management staff of the Ghana Post across the country in order to bring the best out of them and well defined roles in collaborative commercial arrangement in order to prevent the organisation from losing in such venture.
He appealed to the new board and management staff to come out with IT based solutions to the works of Ghana Post in order to make it competitive against private sector entities involved in the courier and postal services.
According to Mr. Iddrisu, the ministry would make available to the board, a new postal policy proposals as well as the report of the Administrative Committee that looked into the operations of Ghana Post to guide it in its deliberations.
The seven-member board is chaired by Mr John Sey with Mr Kofi Nyantakyi, Ms Alice Attipoe, Mrs. Rose Awadzi, Ms Saadatu Maida, Alhaji Said Sinari and Mr Nicholas Dery as members.
Mr. Nicholas Dery, acting Managing Director of Ghana Post, said the organisation as a corporate entity was charged with responsibility of providing its domestic and foreign customers with prompt, efficient, reliable and secure service for profit.
He said the company would adopt a growth strategy with the intention of involving and diversifying its activities and taking advantage of its infrastructure and network.
"Management is also aiming at attracting and retaining qualified personnel who will continue to offer viable services to the organisation. We will also offer training programmes to our staff and adopt performance appraisal system and offer competitive compensation and motivation to staff," Mr Dery said.
He complained about the sinking image of Ghana Post due to poor working culture and poor customer service provision.
Mr Dery announced the re-launch of domestic money remittance service and the introduction of other services like money gram cash funds, express funds and the post bank project.
The acting Managing Director, on behalf of the members, thanked the government for the confidence reposed in them and pledged the commitment of the board towards the development of Ghana Post.