Zimbabwe army 'to go from mines'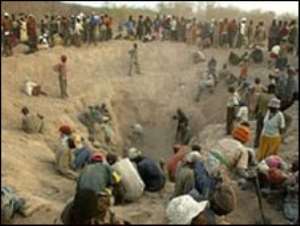 Zimbabwe's government has agreed to withdraw soldiers from diamond mining fields amid criticism over human rights abuses, state-run media reports.
It quoted the deputy mines minister in the unity government as saying soldiers would be withdrawn "in phases".
Troops deployed to the Marange diamond fields last year after disputed polls.
The army says it was to prevent illegal mining, but rights groups accuse them of involvement in forced labour and an alleged massacre of diamond diggers.
A team from the Kimberley Process - the organisation which aims to stop the use of diamonds to fund conflict - is currently in Zimbabwe investigating the allegations of abuse.
It urged the unity government formed in February to demilitarise the diamond fields in the east of the country.
"We agreed to remove soldiers but it will be done in phases while proper security settings would be put in place," Deputy Mines Minister Murisi Zwizwai is quoted by Zimbabwe's Sunday Mail newspaper as saying.
In a report last month, US-based group Human Right Watch said the takeover of the mines last October was a systematic attempt to enable key army units, whose support President Mugabe needed following last June's disputed elections, to have access to riches.
When the army moved in some 200 people were killed in three weeks, witnesses allege.
If the diamond industry was legally regulated, Human Rights Watch estimates it could amount to $200m (£122m) a month for the poverty-stricken country, which is struggling to raise aid from Western donors.