JJ Rawlings an uneasy voice from within?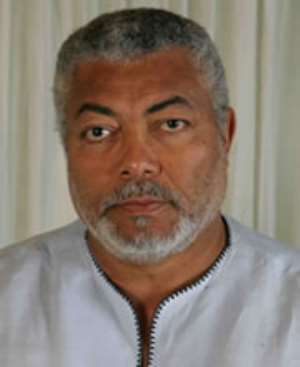 The worst and most bitter enemies you can find are those from your own household. Since the NDC took over the reins of power from the erstwhile NPP administration, one of the most vocal critics of the current administration has not been the immediate past President of the Republic of Ghana or the NPP's presidential candidate Nana Akuffo Addo but Ex-President Rawlings. Infact a couple of months ago Nana Akuffo Addo was asked to share his views on the performance of the President Atta Mills administration but he declined from making any comments by stressing that it was still very early days for the NDC government. This is not the case with Ex-President Rawlings. If my numeracy is right, I might say that is the fourth time Ex-President Rawlings has come out publicly to chastise the Presidency and members of the present administration. I don't know whether has a point or wants to tell the whole world that no one can do a better job for Ghana but himself. Anyway, the records in has administrations are evident for posterity to judge.
The other time he was talking about the pace with which the government was carrying out it's 'witch hunt', another time he was saying certain NPP functionaries must be dealt with immediately because the people are not happy (who are these people?), a few days ago he was advising some ministers and MPs from Volta not to become 'Yes Men' and say all is well when clearly things are getting worse. At the meeting with some NDC functionaries from the Volta Region and some Ministers in his house recently, Mr. Jerry John Rawlings stated that the armed-robbery and other security threats were not normal but politically motivated. My question to the ex-President is what evidence he has to back his claims? It's very obvious that armed robbery has been with us for sometime during the P(NDC) through to the NPP era of government. What we need to do, is to solve the problem of armed robbery as a nation and not point accusing fingers to inflame the already volatile political passion in the Country. The police must be well equipped to deal with the situation. The public must be willing to point out possible suspected armed robbers to the law enforcement agencies quicker and harsher punishment must be handed over to these armed robbers. It is not about NPP or NDC it is a national problem that needs the consented effort of every Ghanaian who love our nation to deal with.
He also alleged that during the reign of the New Patriotic Party (NPP), ammunitions were acquired by some people (who are these people? Mr. Rawlings please be specific these are national security issues) and these weapons are now being used by the people not only to rob, but also to terrorize both foreigners and business men in an attempt to denigrate the image of the ruling government.
To be upfront with you, I see the Ex-President's pronouncements as been very similar to what he did in the Kufour administration but would be very happy to see him using his influences rightly and not to be making statements which smells of a fallacy of hasty generalisation. If care is not taken, not only will the NDC be divided but these statements can have a wrong connotation on national security issues. If JJ Rawlings feels he has a case he should forward the names and the mondus operandis of the perpetrators of these heinous crimes.
Thank you.
Kweku Objective
(This writer is always asking intuitive questions that will aid national development. My objective is to see a 'corruption free' Ghana where people are given equal opportunities to excel irrespective of their tribe, colour, creed, religion, gender or age. Join Kweku Objective on this crusade) God Bless you!
Contacts: Email: [email protected]
Facebook: Kweku Objective [/AUTHOR]