American Architect to Plan and Design Green City in Ghana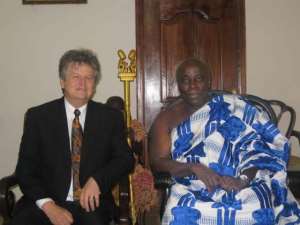 King of Akyem
Central State, Ghana – July 1, 2009 - Gary Heathcote of Heathcote and Associates Architecture in association with Eldridge Hammond has been contracted to design and plan a city for Kofi Asmah of 21st Century Construction, LTD. The Millennium City will be using renewable energy and recycling in a way never before combined to create the ultimate green city in this developing country.
Ghana has a severe shortage of housing and in the capital city of Accra alone, they are short by .5 million housing units. This Millennium City will provide jobs and homes as well as be a commerce zone for foreign investment. Not only will it provide jobs in its building, but will also provide sustainable jobs for permanent residents.
All of the electricity used by the city will be generated without the use of fossil fuels but with Solar Hot Water Systems so that photovoltaic cells are not needed. Stand-by energy sources will include storage of hydrogen which will be separated from ocean water on site. The potable water source to sustain the city and its residents will be from the ocean as well which will be desalinated without brine output back into the ocean. Environmental law professor Dr. Eugene Tsing of UCLA is being consulted for his new and groundbreaking developments in environmental solid waste management.
The city will be a 45 sq. mile ocean front development 40 miles west of Accra , the capital city of Ghana. This particular area was selected because it will have the lowest impact on the environment and natural wildlife where no jungle will be harmed.
State of the art sewage management will be planned into the city providing a treatment plant which will recycle the water and sludge for agriculture and irrigation without emitting effluent or solid waste into the ocean. Sustainable building materials will be used and hazardous material recycling plants will be provided for all residents.
Architect Heathcote will also be implementing his revolutionary public transit concept called TransCities which integrates urban and transportation planning for both public transit and vehicular design.
Heathcote has been an architect in the United States for over 30 years and worked on the federal capital city Abuja, Nigeria as a design architect. This project was overseen by Summa Corp., a Howard Hughes company. Aside from thousands of other projects, Heathcote also participated with the city planning for Colorado Springs' Briargate Community.
His Majesty Osagyefuo Amoatia Ofori Panin, King of Akyem Kingdom in Ghana who is internationally known for his environmental efforts is in support ot this project. The King also serves in a special international commission appointed by Prince Charles of England.
You may also wish to visit our website at www.heathcote.net and our Youtube channel at www.youtube.com/HeathcoteArchitects
Contact: Elaina DeBeikes, 805.217.7871 or [email protected] – Interviews with Architect by phone or in person available by appointment.