Update: Gambia, Ghana agree on murdered Ghanaians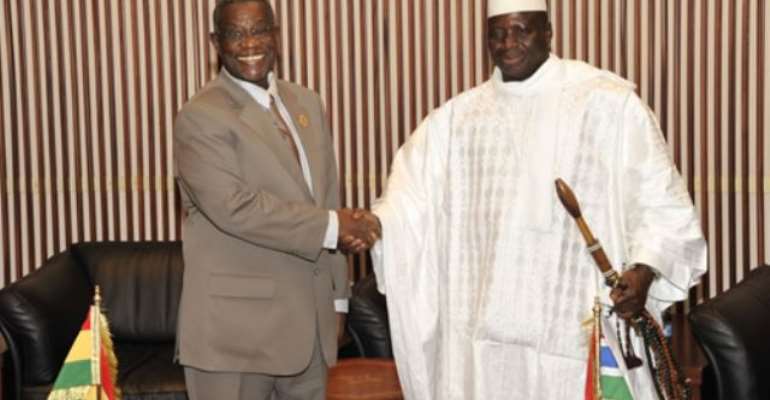 The Gambian Government has agreed to contribute support to the families of six Ghanaians murdered in that country in 2005.
Deputy Information Minister, Samuel Okudzeto Ablakwa, who disclosed this to host of Joy FM's Super Morning Show, Kojo Oppong-Nkrumah, Thursday, said the two governments arrived at the decision in Libya after a discussion between Presidents Atta Mills and Yahya Jammeh.
The meeting was held on the sidelines of the 11th Summit of the African Peer Review Mechanism (APRM) which the two leaders are attending.
A memorandum of understanding was signed Thursday morning to facilitate the payment of support to the families of the deceased, whose bodies are to be exhumed for a befitting burial in Ghana.

The six were said to be among other African nationals murdered in cold blood in The Gambia on July 22, 2005 while they transited there en route to Europe.
The migrants were mistaken for a band of mercenaries that had sneaked into the country to ostensibly oust President Yahya Jammeh.
In August 15, 2008, the UN and ECOWAS Commission set up an international investigative panel to look into the case in order to restore cordial relations between the two countries which stood at the brink of a diplomatic row.
The panel released its report in June this year after eight months of investigations in Abuja, Nigeria and recommended that compensation be paid to the relatives of the victims.
But the recommendations were rejected by The Gambian government arguing the killings were not state-sponsored.
If this latest development is finalized, Mr Ablakwa said it would be a "major feat that the government has chalked up on the sidelines of the (APRM) Summit".
President Mills is also expected to meet the Libyan leader Muammar al-Gadafi later today to strike some oil deals.
The president would push for a better treatment of Ghanaians detained in Libya, who are reported to be receiving inhuman treatment.
He may also appeal for the transfer of prisoners in that country back to Ghana to serve their sentences.
Story by Isaac Essel/Myjoyonline