Atta-Mills Drinks Libyan Coffee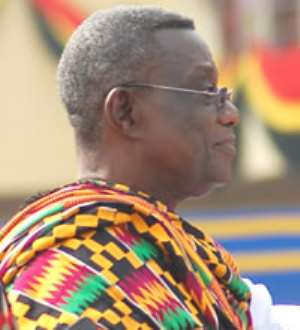 When on June 30, 2009, the Ghana News Agency (GNA) reported the departure of Prof. John Evans Atta-Mills for Libya, on the occasion of the 11th Summit of the African Peer-Review Mechanism (APRM), I could not help but double up with laughter. For Libya, with its 40-year-reigning dynastic strongman, is the last place on Earth that any leaders worth their nominal substance would select as a venue for the serious discussion of constitutional democracy.
And so I began to wonder what other attractions could possibly have drawn Ghana's "Presidential Understudy" to that North African country of some 6 million people. We designate Dr. Atta-Mills as a "Presidential Understudy" because, as New Patriotic Party (NPP) youth activist Mr. Titus Nii Kwartei Glover aptly pointed out recently (Modernghana.com 6/28/09), it has become increasingly and eerily evident during the past half-year that, in fact, it is Togbui Dzelukope, and not Oguaa Kofi, who has been calling the shots where government policy is concerned. And this is precisely why we find it to be dead-on accurate that the swashbuckling founding-proprietor of the so-called National Democratic Congress (NDC) would be called Ghana's substantive "Supervising President."
Anyway, the thought of Dr. Atta-Mills' Libyan junket had me scratching my head and ferreting for all the meaningful reasons that would take a visibly exuberant Ghanaian leader to the Libyan city of Sirte. And, of course, we found quite a slew of these, even if absolutely none of them had any historical relevance for the ongoing continental African project of constitutional democracy and leadership accountability. For instance, Libya is the birthplace of the celebrated ancient Greek mathematician Eratosthenes, who is also described as a great poet, athlete, geographer and astronomer.
The import here is that even if our "Presidential Understudy" finds nothing progressive to jaw-jaw about in Sirte, at least he could take time off his summit schedule to go hunting for whatever might have been preserved of the genius Libyan-born Greek scholar worthy of tourist attraction. And on the latter score, we must quickly point out that during the Fifth Century B.C.E., in which Eratosthenes made Libya his home, the country was called Numidia. This was, of course, way long before any Jihad-touting and tent-pitching Arab appeared on the continental African landscape.
Then we also thought about the fact of Libya being a major global producer of petroleum; and also the fact that in the recent past the government in Tripoli has been known to have been fairly generous to its Ghanaian sister, even if it has often been for all the wrong reasons. And regarding the latter, we are unmistakably alluding to those combat helicopters, allegedly, loaded with "medical supplies" which made quite regular landings at the Kotoka International Airport (KIA) in the early days of Togbui Dzelukope's pseudo-housecleaning revolutionary exercise. We also remember how such admirable, heroic and plain-speaking broadcasters as Messrs. Amamoo Kakra and Akwasi Donkor almost exchanged their noggins for the truth.
Significantly, though, Libya is known to produce a variety of coffee a medium-sized cup of which could keep the drinker awake for at least three days. I personally got to know this when Mr. Akwasi Owusu was named PNDC regional secretary for Asante and then-teenage high schoolers like me were offered a crash "buga-buga" course on how to harass Kumasi landlords and landladies about rent control. That was the Mustapha Kutana days, when we would tank up on Libyan coffee all night brainstorming about some of the most innovative ways of seizing "hoarded essential commodities," which was to simply and stupidly draw up a list of retail items and their "revolutionary" prices, as handed down from Accra by Togbui Dzelukope and his Mafia Toughies.
Well, dear reader, tell me: How does any coterie of progressive and well-meaning African leaders constructively talk about an African Peer-Review Mechanism (APRM) under the imperial nostrils of Col. Muammar el-Gaddafi (Qaddafy), the Supreme Guiding Light of the Libyan People's Arab Jamahiriya? Then again, aren't we talking about Africa, after all, where an epic and apocalyptic terror, such as the Libyan strongman, can be enthusiastically and almost overwhelmingly voted Chairman of the African Union (AU), the most morally and politically authoritative institution on the continent?
Then, yet, again, when did any progressive-minded African come to either perceive or even presume the African Union (formerly the Organization of African Unity [OAU]) to amount to anything more than a pathetically and palpably wasteful talk-shop?
We are also told that when Ghana's "Presidential Understudy" meets with his "peers" in Sirte – they may already have begun deliberations even as I write – the caliber of the fledgling democratic cultures (or whatever these may be deemed) of Mali, Mozambique and Lesotho would be up for discussion, Ghana, under ex-President John Agyekum-Kufuor, having already served as a seminal example. And it is, indeed, on the latter score that things begin to get even trickier, particularly in view of the fact that the nominal leader of Ghana's car-snatching and witch-hunting National Democratic Congress is expected to be making "a brief statement" on democratic governance and responsible leadership during the evaluative process of the African Peer-Review Mechanism (APRM). Hypocrisy at its worst, were the dear reader to ask me.
Even more interesting would be the discussion of the "progress report" on former Chadian dictator Mr. Hissene Habre, who has been dubiously dubbed "Africa's Augusto Pinochet," after the infamous former dictator of the South American republic of Chile, the man who Ghanaian lawyer-poet Kwabena Asiedu-Aboagye once described as the callous "chiller" of his people. Ironically, this alliterative observation was made in the wake of Togbui Dzelukope's "Housecleaning Exercise," when many Ghanaian teenagers and young-adult college students candidly believed in Togbui Dzelukope's promise of Nirvana.
Our brief submission here is that if we are going to discuss Mr. Habre and the increasingly globally-endorsed "Principle of Universal Jurisdiction," as already adopted by the 12th Ordinary Session of the Assembly of the African Union, why not also put on board, or on the same agenda, the untold atrocities and other human rights violations perpetrated against the Ghanaian people by Togbui Dzelukope and his cronies?
Then again, what am I talking about here? After all, isn't Ghana supposed to be the paragon of democracy and constitutional governance on the African continent? Go figure!
*Kwame Okoampa-Ahoofe, Jr., Ph.D., is Associate Professor of English, Journalism and Creative Writing at Nassau Community College of the State University of New York, Garden City. He is the author of "Ghanaian Politics Today" (Atumpan Publications/Lulu.com, 2008) and a Member of the Governing Board of the Accra-based Danquah Institute (DI), a policy-shaping think-tank.