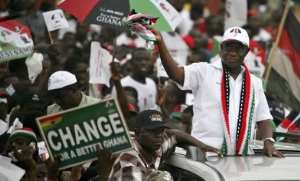 A section of the Ghanaian populace have lashed out at President John Evans Atta Mills government for what they described as his incapacity to deliver on the campaign promises he made during the 2008 general elections.
According to them, it is sad that the National Democratic Congress (NDC) government, which is led by President Mills, has not even been able to fulfill 20% of the promises it made to Ghanaians.
Some of the promises he made included creating job opportunities; filling the people's pocket with money; peace and stability; giving free school uniforms to government school children; one time payment of the National Health Insurance Scheme (NHIS); reduction of petroleum prices among other things.
They contended that it is a big indictment on the Mills-led government that in the wake of the many promises only one is in progress.
This, they said, had to do with the investigations of former ministers under the Kufuor administration by operatives of the Bureau of National Investigations (BNI).
"It is a big indictment to the Mills led government and I have indeed regretted voting for the NDC party, Mr Samuel Aidoo, a car dealer at Kokompe, told this reporter.
According to them, the President's attention on past ministers has shifted his focus from addressing the real myriad of economic challenges facing Ghanaian citizens.
"Of all the promises Prez Mills made to Ghanaians, investigating activities of the immediate past government and harassing them is what the government has been concentrating its energies on which do not augur well for the development of the country," Richard Boateng, a resident at Odorkor remonstrated.
The people who spoke to our reporter explained that more than 50% of Ghanaians go through hardships to earn a living, stressing however that these same people count a lot on whichever government is in power to improve their lot.