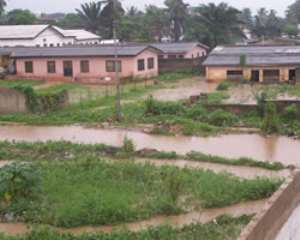 Suddenly we all know the source of the problem and the solutions. We have been waiting for disaster to strike then every­body begins to do something to save a bad sit­uation.
Last week, Accra, the nation's capital, once again came under heavy floods that claimed lives and property. The politicians were as usual busy doing what they know best.- putting the blame where it should be and making promises - a process they are likely to repeat next year, since nature's ways cannot be controlled.
We all know why even the slightest drizzle can cause flooding in certain parts of Accra but we have failed to act sometimes for the sake of cheap politics.
Accra in particular and for that matter most of our towns and cities have problems of choked drains, poorly constructed roads and irresponsi­ble construction of structures on watercourses. All these have something to do with human nature, which could be summed up in one word - indiscipline.
As had been the routine, government offi­cials, while touring the disaster areas in the city, kept on warning those who ,had defied building regulations to obstruct the free flow of rainwater, thus causing the floods.
They also did not have kind words for offi­cials of the town and Country Planning Depart­ment for sometimes looking the other way while these illegal structures were being erected in a haphazard manner all over the city.

Officials of the Town and Country Planning Department will also tell you that they some­times bend the rules because of phone calls from powerful voices or notes in the handwriting of people in powerful positions in government.
We are in a crisis so the government must respond accordingly. We have been told an inter­ministerial committee has been set up to identify and demolish buildings and structures on water­courses to prevent further floods. That is well said, what about the implementation? The solu­tion also goes beyond the demolition of a few buildings.
We all know the history of demolitions and decongestions in.the country. Attempts in the past to decongest the city or dismantle illegal structures were sabotaged either through oppor­tunism or political expediency.
In 2005 or so, Mr Stanley Nii Adjiri-Blank­son, the then Metropolitan Chief Executive of the Accra Metropolitan Assembly (AMA), did a wonderful job by decongesting the Central Busi­ness District of Accra with amazing alacrity.
Residents who applauded the exercise testi­fied that for once they could move freely on the pavements of Makola without winding their way through a dense forest of street hawkers.
Motorists, including taxi and tro-tro drivers, were able to transport their passengers withgut any hindrance and apart from the street hawkers who had been uprooted from their strongholds, every other Ghanaian was pleased that Accra had regained its lost glory and dignity as the nation's capital.
Just as Adjiri-Blankson's decongestion and demolition squad was gathering steam and brac­ing up for more exercises in other parts of the capital, the political propaganda machinery went into motion discrediting the whole exercise. The story was that, the government was out to take food from the mouths of the ordinary people after they had voted the New Patriotic Party (NPP) into power.
Unfortunately for Nii Adjiri-Blankson, there was a forthcoming by-election at the Odododiodoo Constituency in the heart of Ga Mashie, which was already a bad zone for the NPP. You can call it blackmail. And it worked.
On the orders of some heavyweights in the party, the decongestive exercise was stopped and the madness returned to the streets of Accra. We were told the exercise would be repackaged with a human face (whatever that means) and ever since, Adjiri-Blankson managed to stay clear from controversy until his party bowed out of office. The NPP lost the Odododiodoo by-election anyway.
In 2007, an exercise was initiated with a lot of fanfare to demolish 25 unauthorised buildings ' built on land belonging to the Ghana Water Com­pany Limited and which lie in the Weija Dam
watercourses. After three houses went down, the human rights activists and those who read politics into everything went into action. The exercise came to an abrupt end. These two examples illus­trate our frustration as a nation whenever we want to tackle a purely national problem.
The truth is, we are reaping the results of years of indiscipline and inaction. We are all talk­ing today because we are still picking the.dead and counting our losses. Let the sun dry up the flood waters and, we, like the vulture, shall go back to our evil ways.
We have building regulations that we do not adhere to, thus allowing structures to sprout at
any empty space in our cities and towns, not nec­essarily on the build side of the city authorities, Our poorly designed and constructed drains are reeling under garbage that blocks the free flow of water during heavy rains.
Warnings such as; 'Stop Work and Produce Permit' do not have meaning any longer. Most often, work never stops, not because a permit has been produced or the structure is located on an approved site. The maxim 'man must live' always holds sway and with a phone call here and a brief note there, watercourses have been turned into residential areas.
Accra has become flood-prone because over the years, several residential areas have devel­oped without proper layout and those tasked to ensure that the right-thing is done will tell you that they have been frustrated in their work.by politicians and other powerful persons who should have known better.
It is the expectation of every Ghanaian that the interministerial task force will discharge its mandate without fear or favour. Politicising every national issue should be discarded. That is why it is welcome news that two prominent politicians, Mr Peter Mac Manu, National Chairman of the NPP, and Mr Yaw Boateng ­Gyan, Deputy National Organiserof the Nation­al Democratic Congress (NDC), have called for a non-partisan approach to the decongestive exercise. Not only that. There are many other important matters that could be handled better in the national interest without undue heavy politi­cisation.
For now, we can only compare our case to that of the vulture, which always pledges to build a house after the frrst raindrops. We should aim at preventing disaster instead of making repairs after the harm has been done.
Credit: Kofi Akordor (Daily Graphic) [[email protected])yahoo.co.uk Kojiakordor.blogspot.com]