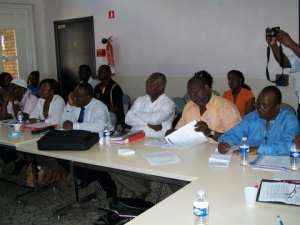 Gadangme Europe (GDU) held their 5Th general meeting in Paris on Saturday the 27Th June 2009.About 150 members from 12 member states attended the meeting with Gadangme associations in Italy stealing the show with about 50 members.
The President of GDU Mr Teddy Adjanor spoke about togetherness among Gadangmebii/li and advice the union to start thinking about the way to help their mother land
Among the speakers was My Nii Armah Josiah Aryeh who travel all the way from Accra to attend the meeting. Representatives from Obonu FM in Accra led by Nii Adjei Klu was also there.The Shai Manye Naa Ayego Anwah travel all the way from Shai in Ghana to support Naa Omaduro (Katamanso tahuu Manye) from London to grace the Occasion.
The event was broadcast live by Obonu FM (Accra) and GFM Radio (London)
Advertisement
GDU support Gadangme France to inaugurate their association on the same evening with a dinner dance which was also attended by over 400 guests.
In his speech the chairman of Gadangme France thank all associations and individuals who attended the function and ask them to keep supporting the GDU to achieve their goals.

GADANGME EUROPE IN PARIS 27-06-09 060

GADANGME EUROPE IN PARIS 27-06-09 062

GADANGME EUROPE IN PARIS 27-06-09 066

GADANGME EUROPE IN PARIS 27-06-09 071

GADANGME EUROPE IN PARIS 27-06-09 072

GADANGME EUROPE IN PARIS 27-06-09 073

GADANGME EUROPE IN PARIS 27-06-09 079

GADANGME EUROPE IN PARIS 27-06-09 081

GADANGME EUROPE IN PARIS 27-06-09 084

GADANGME EUROPE IN PARIS 27-06-09 089

GADANGME EUROPE IN PARIS 27-06-09 090

GADANGME EUROPE IN PARIS 27-06-09 091

GADANGME EUROPE IN PARIS 27-06-09 092

GADANGME EUROPE IN PARIS 27-06-09 098

GADANGME EUROPE IN PARIS 27-06-09 099

GADANGME EUROPE IN PARIS 27-06-09 100

GADANGME EUROPE IN PARIS 27-06-09 102

GADANGME EUROPE IN PARIS 27-06-09 104

GADANGME EUROPE IN PARIS 27-06-09 107

GADANGME EUROPE IN PARIS 27-06-09 109

GADANGME EUROPE IN PARIS 27-06-09 110

GADANGME EUROPE IN PARIS 27-06-09 118

GADANGME EUROPE IN PARIS 27-06-09 120

GADANGME EUROPE IN PARIS 27-06-09 127

GADANGME EUROPE IN PARIS 27-06-09 134
From Nii Yartey
GFM Radio (London)