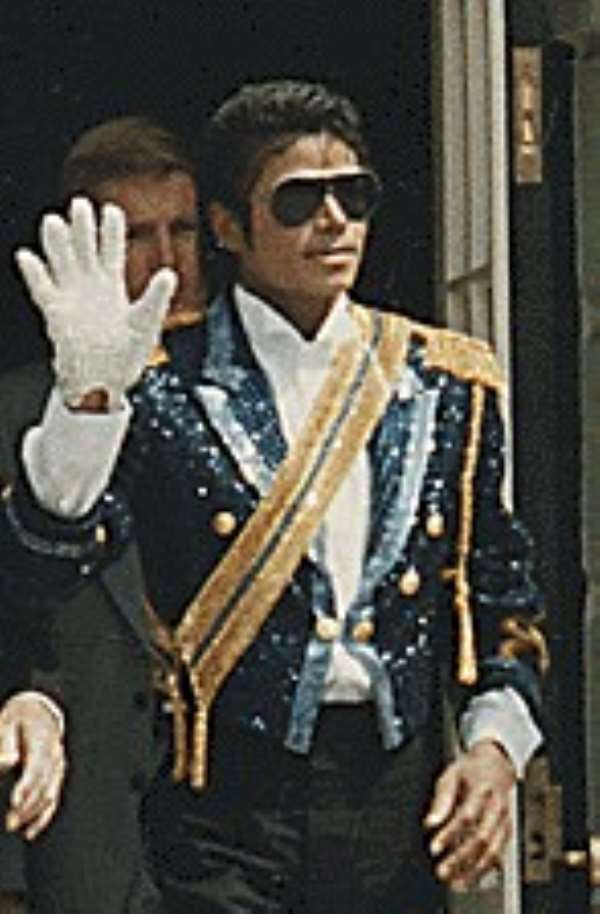 MICHAEL JOSEPH JACKSON
The COUNCIL FOR AFRIKA INTERNATIONAL & FOUNDATION express our deepest sorrow, sympathy and extend heartfelt condolences to the Jackson family in the sudden passing away of Michael Joseph Jackson on Thursday 25th June 2009. Michael Jackson was a trailblazer in his exceptional contributions to the music industry primarily in a way that was electrifying, edifying, soul-nourishing and appealing to hundreds of thousands throughout the world.
Koku Adomdza, Secretary General of the Council for Afrika International and its Foundation - an innovative and change-driven race equality think and doing tank and research centre of excellence to counter the ideology of Africaphobia said that "Michael Joseph Jackson's extraordinary life and achievements epitomise the continued contribution of people of African ancestry to the advancement of human civilisation. He follows in the steps of Jimmy Hendrix, Bob Marley, Barry White, Luther Vandross, James Brown, Fella Anikulapu Kuti and Miriam Makeba – to mention a few from the African community who used music to communicate relevant themes of human existence and progress. Michael however is unique in being the highest selling superstar in recent history with his epic 'thriller album'. Obviously the multi-talented and versatile Michael Jackson, the King of Pop was in his own class and it is certainly a tall order to match his accomplishments.
"The Council for Afrika International & its Foundation are particularly impressed by the inspirational example of Michael Jackson, to rise from humble beginnings to superstardom and fame characterised by extensive philanthropy. No wonder he has been and continue to inspire artists such as Usher, Lemar, Timberlake etc who themselves are fine artists. The unquestionable talent and tremendous success of Michael Jackson dispels the unfounded claims of scientific racists who hallucinate about a superiority of intelligence of the non-African.
"The challenges of superstardom that Michael Jackson had to confront, sad as they were in contributing to his unfortunate and untimely demise, however strikes relevance to the philosophy of the Council for Afrika International and its Foundation. The presence of a viably credible African lobby could have provided the necessary support for Michael beyond immediate family circles. People of African ancestry share a common history and face similar life challenging experiences, wherever we live and regardless of status. Influential and highly successful persons of African ancestry also face peculiar obstacles in their professional and personal lives, predominantly afrophobia, typified by hostility and malevolent plots of various forms that include strange and unjustifiable legal battles.
"The peculiar experiences of celebrities of African ancestry are not easily wholly transferable to the experiences of non-Africans of similar status. High achievers of African ancestry experience separation from their communities without an influential, powerful and supporting cultural heritage lobby, heightens their structural vulnerabilities and exposure to attacks of different types and more often than not lead to tragic demises and anticlimaxes. This sad but avoidable trend has characterised the faith of many highflying luminaries from the African communities – in Africa and in the Diaspora. The Council for Afrika International and its Foundation aims to fill this gaping strategically essential vacuum in advocating and effectively lobbying for the holistic wellbeing and justice of our people as equal global citizens and prevent the further abuse of fundamental human rights, to which many are silenced, suffer in silence and go to the grave in silence.
"To honour Michael Joseph Jackson's professionalism and commitment to excellence, the Board of the Council for Afrika International and Foundation would establish a category within its prestigious awards framework. Michael, May Your Soul Rest in Perfect Peace."
Michael Joseph Jackson (August 29, 1958 – June 25, 2009) was an American recording artist and entertainer. Michael Jackson died on June 25, 2009, aged 50. The specific cause of death has yet to be determined. Before his death, Jackson had announced a 50-date sell-out This Is It comeback tour, in London, UK. In addition, his recording career enabled him to have a role as a businessman. The seventh child of the Jackson family, he made his debut onto the professional music scene at the age of 11 as a member of The Jackson 5 in 1969, and later began a solo career in 1971 while still a member of the group. Referred to as the "King of Pop" in subsequent years, his 1982 album Thriller remains the world's best-selling record of all time and four of his other solo studio albums are among the world's best-selling records: Off the Wall (1979), Bad (1987), Dangerous (1991) and HIStory (1995).
In the early 1980s, he became a dominant figure in popular music and the first African American entertainer to amass a strong crossover following on MTV. The popularity of his music videos airing on MTV, such as "Beat It", "Billie Jean" and "Thriller"—widely credited with transforming the music video from a promotional tool into an art form—helped bring the relatively new channel to fame. Videos such as "Black or White" and "Scream" made Jackson an enduring staple on MTV in the 1990s. With stage performances and music videos, Jackson popularized a number of physically complicated dance techniques, such as the robot and the moonwalk. His distinctive musical sound and vocal style influenced many hip hop, pop and contemporary R&B artists.
Jackson donated and raised millions of dollars for beneficial causes through his foundations, charity singles, and support of 39 charities. Other aspects of his personal life, including his often changing appearances and eccentric behavior, generated significant controversy which damaged his public image. Though he was accused of child sexual abuse in 1993, the criminal investigation was closed due to lack of evidence and Jackson was not charged. The singer had experienced health concerns since the early 1990s and conflicting reports regarding the state of his finances since the late 1990s. Jackson married twice and fathered three children, all of which caused further controversy. In 2005, Jackson was tried and acquitted of further sexual abuse allegations and several other charges.
One of the few artists to have been inducted into the Rock and Roll Hall of Fame twice, his other achievements include multiple Guinness World Records—including one for "Most Successful Entertainer of All Time"—13 Grammy Awards, 13 number one singles in his solo career, and the sale of 750 million records worldwide. Jackson's highly publicized personal life, coupled with his successful career, made him a part of popular culture for almost four decades.
THE COUNCIL FOR AFRIKA
International Secretariat, Suite 6 The Dock Offices, Surrey Quays, Canada Water, London SE16 2XU. UK
Web – www.thecouncilforafrika.org Email – [email protected]
Tel - +44 [0] 7092859886