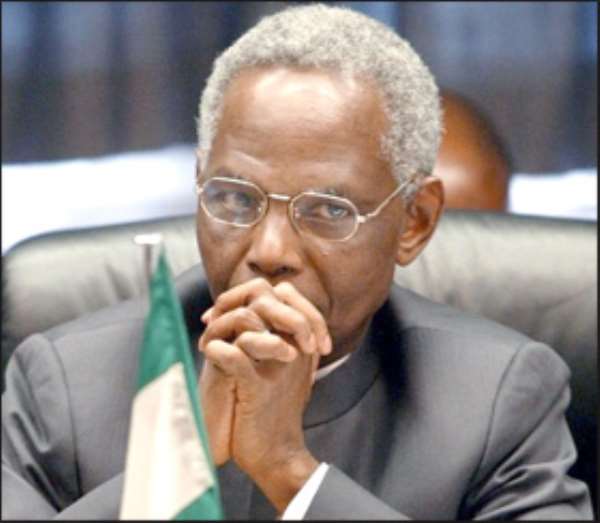 ·Minister Rilwan Lukman-Nigerian Energy Minister The effects of militancy in the Niger Delta and the Federal Government's clampdown on them have shaken the foundation of the oil and gas industry.
The Nigerian Government on Wednesday admitted that it had no more crude for its refineries to process for local consumption.
Consequently, the Warri and Port Harcourt refineries have been shut down. The Kaduna Refinery, though functioning, has no crude to process because the Warri plant, which feeds it, is shut down due to damages to major pipelines.
The only stock, which was reserved, will be exhausted in the next 15 days, the Nigerian National Petroleum Corporation (NNPC) said on Wednesday.
The corporation's Group Managing Director (GMD), Mohammed Sanusi Barkindo, who painted the pathetic picture of the industry, said in the next 15 days, it will run out of crude for domestic consumption.
The corporation attributed the development to the crisis in the Niger Delta, which has escalated since the government scaled up a military offensive against the militants in the region.
In retaliation, the militants have intensified their sabotage of the activities of oil firms in the zone. In the last three weeks, the militants have struck four times, destroying facilities belonging to Shell, Chevron and Agip, which are joint venture partners with the government.
Barkindo raised the alarm on the depleting stock of crude during an interactive session with the House of Representatives Ad-hoc Committee on the Niger Delta crisis, chaired by Abdul Ningi.
Represented by his Assistant General Manager, Technical, Gabby Meheux, Barkindo said since the starting of the military operations in the region, there had been an escalation of militant activities targeting Shell, Chevron and Agip companies with attendant pipeline destruction.
He disclosed that as at last Friday, the average production output from its JVC stood at only 1.3 million barrels per day (bpd), adding that the Port Harcourt and the Warri refineries had both ran out of crude and were shut down as a result of the damages on the Nembe-Port Harcourt and Escravos-Chanomi pipelines.
According to him, the damage of the pipeline feeding Warri means no supplies to Kaduna refinery, hence the resort to the use of already stored crude, which is expected to run out in 15 days.
"Yes, what we currently have now will last for 15 days and after that it will finish.
The consequence is that no refining would take place and no product would be available from Kaduna because the pipeline that would have supplied crude to Kaduna was vandalised and until it is repaired, we cannot pump crude," he explained.
Source: Guardian Newspaper