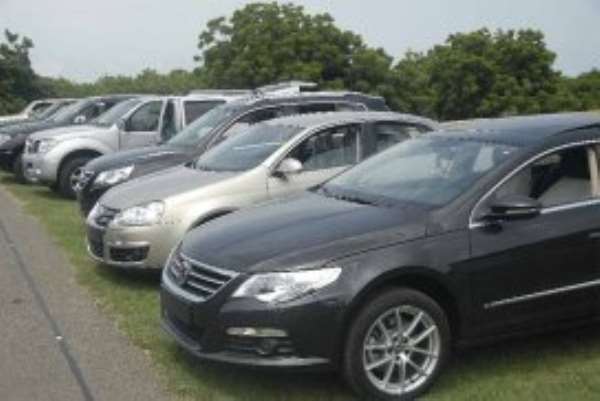 Some of the vehicles on display
Various vehicle dealers have invaded Parliament House following President John Evans Atta Mills's approval of a GH¢50,000 loan to be sourced for each of the 230 Members of Parliament (MPs) for the purchase of a vehicle.
Dealers in automobiles, apparently in anticipation of the President's gesture, have turned the forecourt of Parliament House into an exhibition centre for a variety of vehicles, including saloon cars, cross-country vehicles and pick-ups, to attract the attention of the MPs.
Some of the make of vehicles on display within the precincts of the House are Nissan, Volkswagen (VW), Toyota, Ford, Honda, Skoda, etc.
Interestingly, the dealers are not prepared to disclose the price range of their vehicles, as they are competing to get a good deal from the MPs.
The GH¢11.5 million package was, however, not what the legislators had bargained for. The Majority Leader, Mr Alban Bagbin, had earlier indicated that MPs would insist on being given official cars by the state, as in the case of members of the Executive and the Judiciary; but that apparently did not materialise.
Mr Bagbin told the Daily Graphic yesterday that Parliament had already started negotiations with the Amal Bank and Fidelity Bank to secure the loans for the legislators which are expected to be secured at the prevailing market rate.
The MPs are expected to pay the loans over their four-year terms. Under the arrangement, those who are unable to complete the payment will have to use part of their ex gratia to pay for the rest.