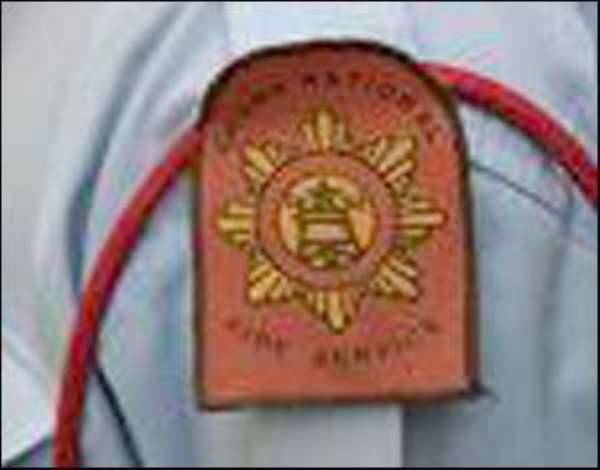 Ghana National Fire Service
The Chief Fire Officer (CFO) of the Ghana National Fire Service (GNFS), Felix Ferkeh, is said to have been asked to vacate his position for the Director of Operations, Brown Acquaye, effective today, DAILY GUIDE has learnt.
Beside the sack order, the CFO was prevented from travelling out recently, an action which suggests that he might be called, in the unfolding days, to answer some questions about his stewardship.
DAILY GUIDE has gathered that the sector Minister, Cletus Avorka, was protective of the CFO but when he traveled briefly recently, his deputy minister endorsed the "proceed on leave" order.
Pro-National Democratic Congress (NDC) papers have called for the dismissal of a number of heads of departments including para-military organizations.
Cadres, during their conference recently in Accra, called for a "house-cleaning exercise" in a number of organizations among them Customs, Excise and Preventive Service (CEPS), GNFS and Ghana Immigration Service (GIS) among others.
The Director of Ghana Immigration Service, Ms. Elizabeth Adjei, who has also come under the lenses of the pro-NDC papers, could soon be asked to proceed on leave, a subtle way of terminating appointments.
At the Ghana Prisons Service, William Asiedu could be watching with keen interest what happens to his career in the approaching weeks.
The security organization is one of many where cadres have demanded a house-cleaning.
As for the CEPS, Emmanuel Doku can be said to be buying time as he is due to proceed on terminal leave any moment from now.
At the Finance and Economic Planning Ministry, tongues are wagging as to what would happen when July 24th 2009 is due.
The Chief Director, Nana Juaben Boateng Sriboe, according to a directive from the Office of Head of Civil Service (OHCS), should hand over to the next most senior director below him by the aforementioned date.
The Chief Director is said to have been communicated to, with regard to the change, but when DAILY GUIDE called him yesterday to confirm the development, he said, "I have no knowledge about what you are talking about. Ask whoever gave you that information. Thank you."
With a retired Major waiting in the wings to step in as the new Chief Director of this exciting and tough Ministry, tension appears to be rising as staff watch with relish, the unfolding development.
When reached for his position on the issue, Finance and Economic Planning Minister, Dr. Kwabena Duffuor, confirmed that the Head of Civil Service has written to him stating that the Chief Director ends his service on July 24th 2009.
The Head of Civil Service added that the next most senior director should take over the position.
With his body language suggesting that he is not about to vacate the position for a certain Maj. Tara (rtd), it would be interesting to see what happens after the July 24th date.
By A.R. Gomda