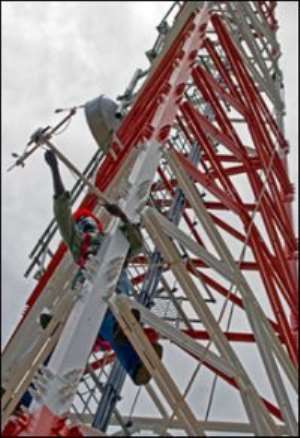 Gaping gaps in weather and climate data across Africa may be filled by a partnership between humanitarian groups and mobile phone companies. The project aims to deploy 5,000 automatic weather stations across the continent mounted on phone masts. They will gather data on aspects of weather such as rainfall and wind, and send it to national weather agencies.
Former UN chief, Kofi Annan says the project could help save lives of people on "the frontlines of climate change".
"The world's poorest are also the world's most vulnerable when it comes to the impact of climate change, and the least equipped to deal with its consequences," he said. "Today you find cell phone towers in almost every part of Africa. We have never been able to establish weather monitoring on that scale, until now."
Mr Annan now serves as president of the Global Humanitarian Forum, which is formally launching the programme, named Weather Info for All, at the Global Platform for Disaster Risk Reduction meeting in Geneva.
More than 70% of Africans make a living from farming, and the vast majority of the continent's agriculture is rain-fed, making it highly vulnerable to variability in weather and climate.
Yet report after report has concluded that weather data - needed to make accurate projections of climate change - is in woefully short supply.
Africa has less than 200 weather stations meeting World Meteorological Organization (WMO) standards. Europe, by comparison, has several thousand.
"We see the Weather Info for All initiative as a major pan-African effort to empower our 188 (nation) members to provide enhanced weather information and services," said Michel Jarraud, WMO secretary-general. "For food production, almost every decision is linked to weather, climate and water parameters."
The success or failure of the initiative will largely hinge on the willingness of Africa's mobile phone companies to take part, according to Carl-Henric Svanberg, president and CEO of Ericsson, who conceived the project during conversations with Mr Annan and Intergovernmental Panel on Climate Change (IPCC) chief Rajendra Pachauri.
"This initiative presents a unique opportunity to simultaneously help mitigate the impact of climate change for those most affected and to strengthen weather networks and systems across the continent," commented Mr Svanberg.
So far the project's pilot phase has seen 19 stations established around Lake Victoria in Kenya, Tanzania and Uganda.
Organisers acknowledge more funding will be needed to attain the final goal of 5,000 stations.