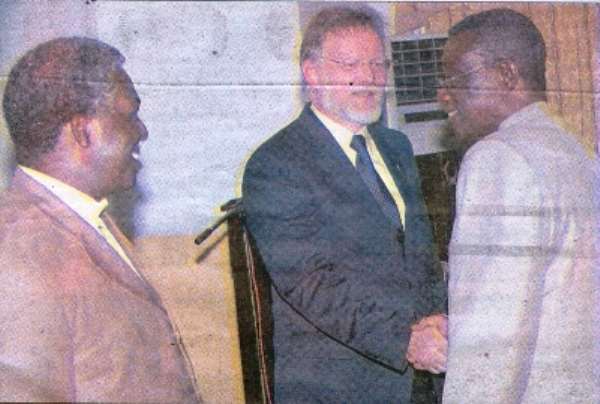 H E President J E A Mills (right), Welcoming Rev Eberhard Will of EMS Mission Council, with them is Most Rev Dr Yaw Frimpong-Manso (left), Moderator of the Presbyterian Church of Ghana

President John Evans Atta Mills yesterday re-echoed his call for national unity and underscored church and state partnership in nation building, stressing Godly values to ensure a better Ghana.
In a comment on the 'That all may be one' motto of the Presbyterian Church of Ghana (PCG), President Mills asked Ghanaians to go beyond unity and seek the face of Almighty God to acquire embedded values that will make life better for all Ghanaians.
President Mills made the call when a delegation from the Mission Council of the Association of Churches and Missions in South West Germany (EMS) paid a courtesy call on him, at the Castle, Osu, in Accra.
The courtesy call comes ahead of a Council Mission (the Governing Body) meeting of the association to be hosted by the PCG and scheduled for Abokobi in the Greater Accra Region this week.
The EMS, formed in 1972, is an association made up of mission societies, notably the Basel and the Moravian Mission and six churches in Germany to further develop and promote a close relationship between churches in Germany, Africa and Asia in the spirit of mutual partnership and of sharing spiritual gifts and material resources.
Since 1995, the EMS Mission Council has comprised 36 delegates of all the EMS fellowship- 23 churches and five mission societies in Germany, Switzerland, Ghana, South Africa, the Middle East, India, Indonesia, Korea and Japan.
President Mills said the nation feels honoured that the Association has chosen Ghana for its meeting.
He expressed Ghana's appreciation to Germany for its contribution to her development, adding, 'the EMS is providing the icing on the cake.'
The Presbyterian Church, President Mills said, also has a record in assisting in diverse ways in the development of Ghana.
Notable areas are education and vocational training, provision of health services and agriculture in addition to church witnessing and ensuring discipline in daily life.
The delegation, led by Rt Rev Yaw Frimpong-Manso, congratulated President Mills on his election to the high office  and Ghanaians for holding democratic elections in a peaceful manner.
Tracing the links between Ghana and the Presbyterian Church from the 19 century when the Basel Missionaries arrived n Ghana, Rev Eberhard Will, Chairman of the EMS Mission Council, said a number of partnerships links have since been developed.
Some of which he mentioned, are ecumenical with workers in a number of communities in Ghana, youth volunteer exchange programmes and the financial support to youth programmes and close contact with Ghanaian churches, notably the Presbyterian Church.