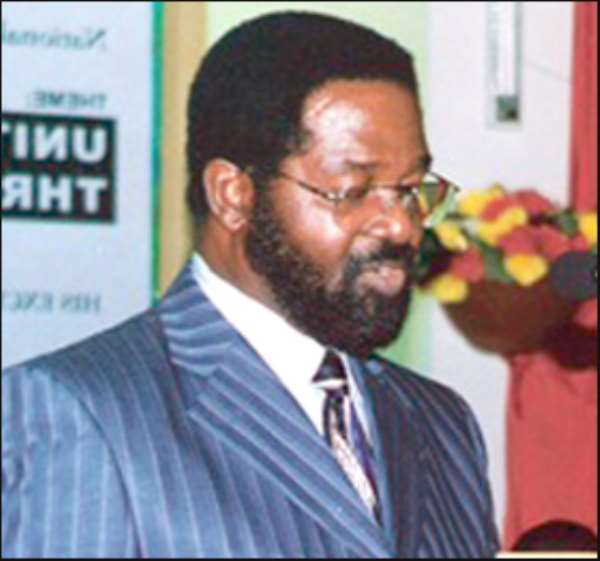 Alfred Vanderpuije - AMA Boss An official query hangs over the head of newly confirmed Mayor of Accra, Dr. Alfred Vanderpuije, for traveling to the US without the permission of his sector Minister, the Greater Accra Regional Minister, Nii Armah Ashietey.
The Mayor, it would be recalled, traveled to the US for the graduation of his daughter and to engage in a series of meetings with his counterparts in Chicago, New York and other cities with a view to partnering them for the benefit of Accra.
DAILY GUIDE gathered from a source at the Presidency that the Greater Accra Regional Minister considered the routing of a correspondence about the trip to the Chief of Staff as out of order and added that the Mayor should not travel at the time considering the workload in his new office.
The trip coincided with a mandatory orientation programme in Accra for district and municipal chief executives.
Even before the issue of permission was resolved, the Mayor emplaned for a two-week trip, a virtual AWOL, Absence Without Leave situation.
As if the imminent query is not enough, the Mayor and others have been given a date to appear before the National Security Council over the aborted Accra decongestion exercise, which appears to have been jinxed since the Mayor announced it.
The Regional Minister has stated that he is not aware of the exercise, saying the timing was politically wrong.
The Mayor's proposed budget of GH¢250000 has been described as outrageous, raising eyebrows among various stakeholders.
The decongestion of Accra is not a new venture in the history of the city, having been attempted under the earlier tenure of the National Democratic Congress (NDC), attracting the tag "aba ei," to wit, "they are coming" in reference to the uniformed men engaged to chase away hawkers on pavements.
The exercise was anything but successful until the New Patriotic Party (NPP) came to power and also tried working on it.
The erstwhile administration went ahead to construct alternative markets for the street hawkers but this too did not work out. Minimum force with possible prosecution at the courts was applied but eventually, the exercise fizzled out.
Observers found it unacceptable, the position by the Mayor that with elections far away from now, the time is opportune to undertake a decongestion exercise. Cynics say the position amoral is because it implies that a decongestion exercise will never be undertaken when elections are around the corner, out of political expediency.
The decongestion exercise is said to have both political and social implications and government at this time would rather it is shelved.
By A.R. Gomda