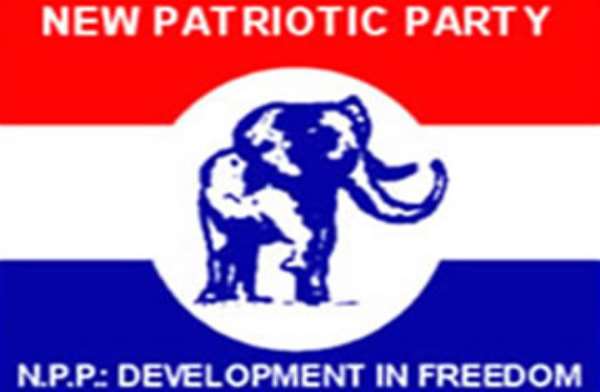 In the lead-up to its plenary national confab, during which the New Patriotic Party (NPP) would strategically determine its agenda for Election 2012, a founding member of the party was quoted to be implying that unless the ideological scions of the Danquah-Busia (and some also add Dombo) tradition select "somebody from the South like a Ga, Fante or Ewe," the NPP would be doomed to enduring life on the opposition sidelines in perpetuity.
Okay, actually Mr. Kwame Pianim, the renowned economist and former Chief Executive Officer (CEO) of the Ghana Cocoa Marketing Board (COCOBOD), did not use the psychologically blistering noun of "perpetuity." But it surely sounded almost as if he had used that word; implicitly, at least. Which risibly reminded me of one of those latter-day Ghanaian prophets of doom vulgarly unsparing of any moment's chance to vacuously and glibly explain off how and why it came about that Divine Providence anointed the infamous Butcher-of-Dzelukope to, literally, reduce Ghanaians and their mother- and fatherland to a virtual state of economic rubble.
In the frenetic lead-up to Election 2008, for instance, some Amaninampong guy who also called himself a prophet, a prophet of doom, to be certain, predicted the certain assassination of then-NPP flagbearer Nana Addo-Dankwa Akufo-Addo, in the event of the latter clinching the coveted presidency. I had the gut-feeling, even then, that some cynical operatives of the so-called National Democratic Congress (NDC) had set the guy up to such bizarre purpose. And, predictably, legion were those of us who, in the wake of Nana Akufo-Addo's slightly edging out Prof. John Evans Atta-Mills, during the first-round of Election 2008, waited with bated breaths for the fulfillment of this "Amaninampong-nian" prophecy. And when, alas, the Susubiribi lad lost the second-round with about almost the same margin that he had initially edged out his most formidable opponent, we were almost tempted to thank Apostle/Prophet Amaninampong for saving the day, Nana and the party that Drs. Danquah and Busia ideationally built.
Anyway, the first problem that the keen student of NPP politics encounters with Mr. Pianim's admonishment/admonition is the clearly implied exclusion of the Fante as an integral part of the Akan-Ghanaian "Meta-Nation." In other words, exactly where Mr. Pianim came by his rather curious notion that, somehow, the Fante people are ethnically a discrete entity from the rest of the Akan nation is what makes the NPP stalwart's exhortation even more worthy of our while. For there is, indeed, at once a quite significant and relevant sub-text to the foregoing observation. And it is, sadly, that, indeed, some constituencies among our Akan "Meta-Nation" actually believe that the Fante people inhabit a fuzzy ethnic polity somewhere between the proverbial rock and a hard place. And historically, such believers, and they are legion, have not hesitated to make the Fante feel precisely, albeit uncomfortably, as such. And on the latter score, of course, we are unmistakably alluding to the "M'agya Tuw [My Lord, The Gun-Barrel]" mythology that has persistently been used to "benignly" diminish Fante inclusion among members of the Akan "Meta-Nation."
As far as those of us avid students of "Akanology" or Akan existential philosophy and history are concerned, it is this ethnically nihilistic, and centrifugal, tendency that is largely to blame for the utterly shameful, albeit quite understandable, defeat of the New Patriotic Party in Election 2008. And, indeed, had Mr. Pianim bothered to take time off his busy schedule, as a businessman, in order to ascertain from the people of Saltpond, for example, he would have learned to his pleasant surprise that the people of "Akyemfo" are actually "Akyemfoo" who, historically, precede the bulk of the great and good people of Kwaaman in membership of the Akan "Meta-Nation."
And so, naturally, our first and foremost admonishment to the NPP membership, as the latter heads for its national confabulation, is to religiously ensure that such centrifugal ethnic separatism promptly gives way to the salutary forging of a hermetically centripetal Akan "Meta-Nation." For it is indubitably preposterous for any section of Ghanaian humanity to cavalierly and facilely presume to reduce us, the cultural and electoral majority, to the peripheral status of an ethnic minority, and virtual political onlookers, in the very nation whose global identity is, more or less, coextensive and synonymous with being of Akan ethnicity.
In the wake of Mr. Pianim's obviously desperate observation above, some ardent and stentorian anti-Akan elements decided to have a field day in cyberspace, as it were. One such cynical element, presuming to readily hold us up for ridicule, even impudently suggested that we roll over on our backs to let those of our inveterate enemies, as well as acquiescent friends, who slaughtered our Supreme Court judges, yesteryear, ride roughshod over us. In other words, for this bloody breed of anti-Akan nationalist, our very ethnic identity and makeup, as Akan(s), constitutes an immitigable (or unpardonable) affront to all non-Akan Ghanaians!
Consequently, in the viral imagination of this morbid, and mordant, foe the only way for us Akan to be deemed acceptable in the very country which, more than all else, we fashioned and named after ourselves and our history, is to summarily commit the ungodly crime of ethnic self-repudiation. Now, if the preceding are not fighting words – particularly, when the critic also went on to irreverently list some of our most distinguished and prominent monarchs as amounting to not even a hill of beans – then, dear reader, tell me, what are they?
The irony, though, is that those who liberally demonize us and call us by all sorts of abominable names are also the very ones who would rather live, love, be educated and work among us than with and among their own! And so one clearly gets the grotesque sense that what these hateful elements routinely parade as genuine and rectifiable grievances are simply nothing short of pathological and incurable jealousy and raw envy. Under these circumstances, there is absolutely nothing that we, Akan(s), can do about such pathology other than to fiercely defend our dignity, integrity, pride and identity, and to guarantee the effective and perennial containment of our sworn enemies.
On the broader and brighter national political front must be highlighted the dire need for the NPP leadership to aim for enviable careers as statesmen and women, not the lurid sort of Machiavellian mischief-maker so uniquely exemplified by the pseudo-social democrats of the blood-bathing National Democratic Congress. Such eudaemonious spirit, at once, calls for a drastic reduction in capitalist acquisitiveness, as preached, taught and practiced by the immortalized Doyen of Gold Coast and Ghanaian politics. This would also mean that the NPP, its leadership and rank-and-file membership focus on what they do best, which is continue to build democratic institutional structures as well as provide ready and equal access to such indispensable amenities as education, health and gainful employment, even as the charlatanic operatives of the so-called National Democratic Congress spend the next four years of their electoral mandate diagnosing and finding dubious remedies for their gaping administrative and political incompetence.
To our brothers and sisters in the three "Upper-North" regions, we can only ask you to examine your own lives and well-being, or lack thereof, under 21 years of P/NDC tyranny and decide whether you want to cast your lot with and become an integral part of the perennially envied great Akan success story, or remain marginalized and taken for granted by the Dzelukope Mafia. And to the rest of us all, particularly the career politicians among us, may we recommend the greatest novel ever authored about the Akan people, Ayi Kwei Armah's "The Healers."
Ultimately, the good news is that, regardless of which of the two major political parties wields power, the Akan people will continue to seminally shape the direction and destiny of Ghanaian politics and culture. And is there any reason for us to be morbidly and pathologically envied and hated? You shall, surely, be hearing from your native son soon. Long live Ghana! Long live Great Akan!
*Kwame Okoampa-Ahoofe, Jr., Ph.D., is Associate Professor of English, Journalism and Creative Writing at Nassau Community College of the State University of New York, Garden City. He is the author of 20 books, including "Sounds of Sirens: Essays in African Politics and Culture" (iUniverse.com, 2004). E-mail: [email protected].