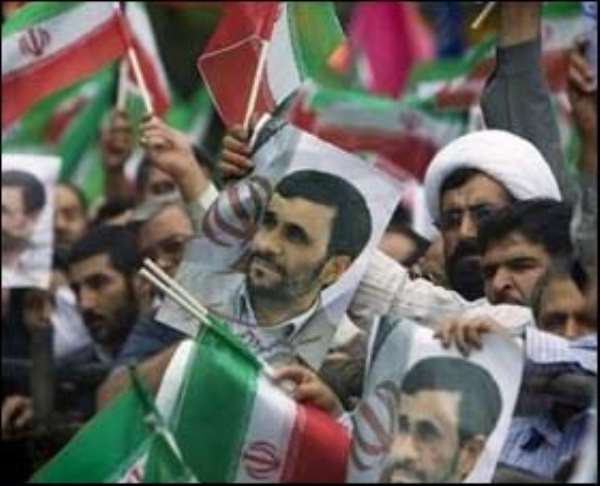 Supporters of Iranian President Mahmoud Ahmadinejad
Tens of thousands of people have joined a rally in central Tehran to celebrate the re-election of Iran's President Mahmoud Ahmadinejad.
The president's closest opponent in the election, Mir-Hossein Mousavi, has lodged an official appeal against the result amid continuing angry protests.
Security forces have arrested up to 100 members of reformist groups, accusing them of orchestrating the violence.
Mr Ahmadinejad denied any vote-fixing, saying the result was "very accurate".
At an earlier news conference, the president accused foreign media of refusing to accept the result because they did not like it.
"Forty million people have taken part in this process. How can they question it?" he said.
US doubt
Asked about Iran's nuclear programme and Tehran's relations with foreign powers , he said the nuclear debate "belongs to the past", and that Iran had "embraced" the idea of an international effort to eliminate nuclear weapons.
Global reaction to the election has been muted, but US Vice-President Joe Biden told broadcaster NBC there was "an awful lot of doubt" about the result.
Mr Ahmadinejad's closest rival in the election campaign, Mir-Hossein Mousavi, announced on Sunday he had lodged an official appeal appeal against the result to Iran's Guardian Council .
"I urge you Iranian nation to continue your nationwide protests in a peaceful and legal way," he said in a statement.
Mr Mousavi has called several times for his supporters to avoid violence, but angry protesters have been setting light to vehicles and throwing stones in Tehran.
Reuters reported that police charged a 2,000-strong group of students who were protesting at the University of Tehran.
Leader's endorsement
Several parts of the city have been sealed off by the authorities to prevent the unrest spreading.
Dozens of activists have been arrested, with reports saying those detained were members of pro-reformist political parties which had backed Mr Mousavi during the election campaign.
Those held were said to include Mohammad Reza Khatami, brother of former President Mohammad Khatami.
Many of them are reported to have been freed since.
The state news agency, Irna, said those arrested were involved in orchestrating Saturday's protests in Tehran.
The controversy flared after a high turnout on Friday - estimated at 85% - led Mr Mousavi's supporters to expect a close result.
But official results gave Mr Ahmadinejad a landslide victory. His final share of the vote was almost 63%.
The result was quickly endorsed by Ayatollah Khamenei, Iran's supreme leader.
Our correspondent John Simpson, in Tehran, says the truth about the election may never be known.
But many observers in Iran feel that the final result did not reflect the extraordinary numbers of people who turned out to vote, our correspondent adds.
BBC