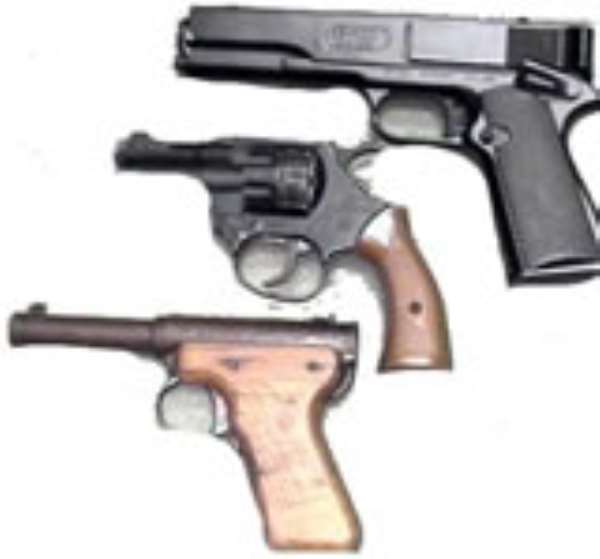 Some top cops still hiding arms
The Deputy Commissioner of Police (DCOP) in-charge of Operations at the Police Headquarters, John Kudalor, has given all policemen in the country one week to return all illegal weapons in their possession or face the severest sanctions.
Mr. Kudalor explained that the directive was an operational decision by the police administration to clean its house first before going after armed and other criminals in the country.
He gave the directive last Thursday at a press briefing in Accra to address the crime situation in the country.
"There is the need for self-inspection and house cleaning because some few police officers are on record to have supplied weapons to armed robbers in the country," he said and added that the police administration knew many more police officers who were keeping illegal weapons.
Mr. Kudalor said if the said weapons were returned within the stipulated time, no questions would be asked; neither would the police administration go after those names.
On the current crime situation in the country, Mr. Kudalor said, the visible police presence on the streets, combined with community policing and neighbourhood watch committees, had helped to reduce crime considerably.
He urged the general public to starve criminals of vital information by desisting from boastful talks about their wealth or that of others in public "because the criminals pick up such information to attack their victims ".
He pointed out that people, who buy stolen goods from the criminals, were those who create cheap and ready market for them saying that the police would target them with renewed intensity.
He said the ultimate goal of the police in the near future was to embark on a zero tolerance for crime, the police would swiftly arrest and prosecute such small offences such as urinating and generating filth and garbage at unauthorised places in the country.
Mr. Kudalor allayed the fear of the public that the police were on top of fighting the menace of robbery throughout the country.
Earlier, the Director-General of the Criminal Investigations Department (CID) of the Police, Frank AduPoku, said even though the crime rate was generally low in the country, Accra, Kumasi and some parts of the Eastern Region continued to record an upsurge in robberies.
He said Accra and Kumasi continued to record 68 per cent of the average robberies committed nationwide in 2008 and the first quarter of 2009.

Mr. Adu-Poku disclosed that, 90 per cent of the robberies were committed with locally manufactured pistols; and the rest with AK 47 assault rifles; pump action guns and other dangerous weapons .
He said those into robberies were mostly Ghanaians within 18 and 40 years age group with the rest being foreigners from the neighbouring countries.
He cautioned the public to be vigilant on whom they gave lift to in their vehicles.
He said most beautiful girls offered lift, often turned out to be collaborators and lead unsuspecting victims to robbers hiding at strategic places along the route.