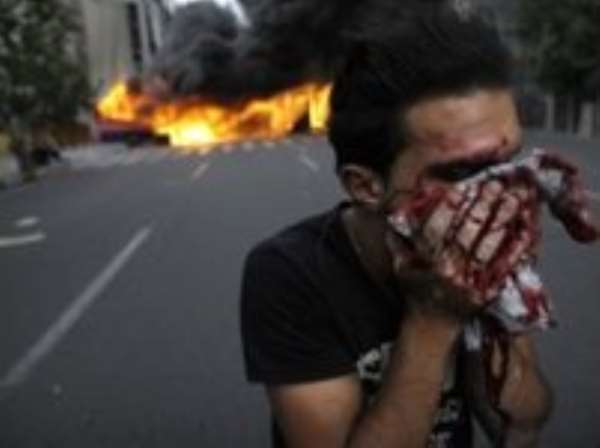 Up to 100 members of major Iranian reformist groups have been arrested, accused of orchestrating violence after the disputed presidential election.
Backers of defeated reformist Mir Hossein Mousavi were rounded up overnight, reports said, including the brother of ex-President Khatami.
Mr Mousavi's whereabouts are unknown but he is thought to remain free.
Crowds took to the streets of Tehran on Saturday to protest against President Mahmoud Ahmadinejad's re-election.
There were clashes between protesters and police in Tehran, despite calls from Mr Mousavi to avoid violence.
He has refused to accept the election result, calling it a "dangerous charade" and alleging wide-scale irregularities.
Lock down
Details of the arrests remained sketchy, but reports said those detained were members of pro-reformist political parties which had backed Mr Mousavi during the election campaign.
The state news agency, Irna, said those arrested were involved in orchestrating the protests in Tehran on Saturday.
The streets of the Iranian capital were reported to be calm on Sunday morning, but the BBC's Jon Leyne, in the city, says concrete barriers are being erected in the streets.
Senior Iranian political figures have offered their backing to Mr Ahmadinejad, among them parliamentary Speaker Ali Larijani.
The president already has the backing of the country's Supreme Leader, Ayatollah Ali Khamenei, who endorsed his election win on Saturday.
Our correspondent says the expressions of support for Mr Ahmadinejad could be an attempt to "lock down" support for the president within Iran's divided political establishment.
Mr Ahmadinejad is due to hold a news conference on Sunday before attending a victory rally.