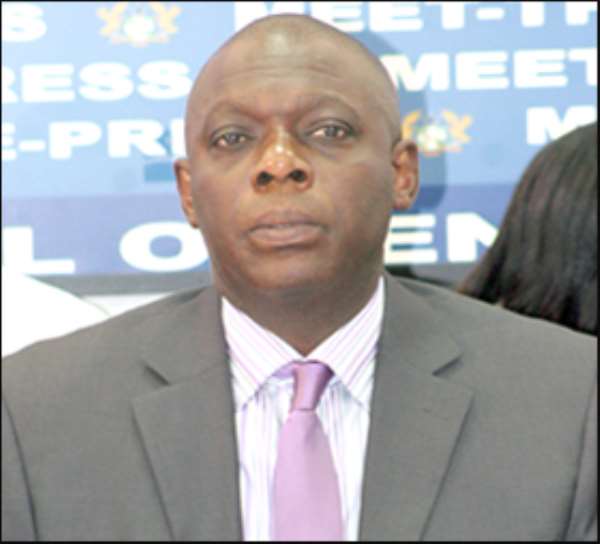 Frank Agyekum
THE GOVERNMENT of Ghana has frozen the constitutional rights of New Patriotic Party (NPP) gurus and former government officials to have legal representation when they are invited to national security facilities for interrogation.
Lawyers who followed, Frank Agyekum, former deputy Minister of Information and Sammy Crabbe, Greater Accra NPP chairman, ordered to report to the Bureau of National Investigations (BNI) for interrogation yesterday on separate cases were kicked out of the interrogation hall with an excuse that it was an 'instruction from above'.
DAILY GUIDE gathered that Sammy Crabbe, who was invited through a phone call on Tuesday to report at the BNI, was threatened with arrest and detention because he insisted that he wanted to have his lawyer present during his interrogation.
Mr. Crabbe was also hesitant in answering questions posed to him because the issue at stake was before court. His action drew the ire of the BNI operatives who threatened to put him under arrest.
Contrary to Article 14 section 2 of the 1992 constitution which states:
"A person who is arrested, restricted or detained shall be informed immediately, in a language that he understands, of the reasons for his arrest, restriction or detention and of his right to a lawyer of his choice", frantic requests from the invited politicians that they have the right to legal representation was turned down.
"The BNI claimed my client was not under arrest and that we were invited for a friendly chat but I, his lawyer, cannot sit-in to listen to what questions he would be asked and that my client can also not turn down the request for the friendly conversation, else he would be arrested," Kwame Acheampong Boateng, lawyer for Mr. Crabbe, told DAILY GUIDE.
Mr. Acheampong said they got to the BNI around 9:00 am and were asked to see a certain Nii Lamptey who claimed that his client was invited for a friendly chat.
However, he said they left their phones and cars behind and they were driven past Gold House near Kawukudi.
The BNI, Mr. Crabbe's lawyer said, told him that he was not part of the friendly chat, wondering if they were operating under Ghana's constitution.
Mr. Acheampong said after some back and forth exchanges, his client went in for about 45 minutes, following which he was asked to go.
Former Chief of Staff, Kwadwo Okyere Mpiani, was also denied the right to legal counsel when he was invited to report to the BNI recently. His lawyers claimed they were put in a room, four doors away from where Mr. Mpiani was being questioned.
Interestingly, though Mr. Crabbe was ordered to report to the BNI office at Ridge in Accra, he was on arrival shoved into a vehicle and whisked to another security facility where he was quizzed about the Ghana International Airlines (GIA).
DAILY GUIDE gathered that Mr. Crabbe was tight-lipped during the encounter and was said to have told his interrogators that the issue was before a court of competent jurisdiction, thus, passing official comments would amount to prejudicing the court process.
He has been asked to report for another grilling session next Tuesday.
Frank Agyekum, spokesperson for ex-President John Agyekum Kufuor, was also interrogated by the BNI yesterday on a GH¢86,915.85 contract he signed at the Ministry of Information when he served as Deputy Minister.
The said contract, which was signed in November 2008 after having gone through tender, was awarded to Plexiform Ventures for the renovation of the offices and washrooms at the Information Ministry.
Mr. Agyekum said he was interrogated in the absence of his lawyers, but the "chat was civil and cordial".
However, his lawyer was allowed to read over his statement before they left the BNI facility.  
During a similar invitation from the BNI to the former Foreign Affairs Minister, Akwasi Osei-Adjei, his passport was seized under circumstances described as unacceptable by legal pundits.
By Halifax Ansah-Addo