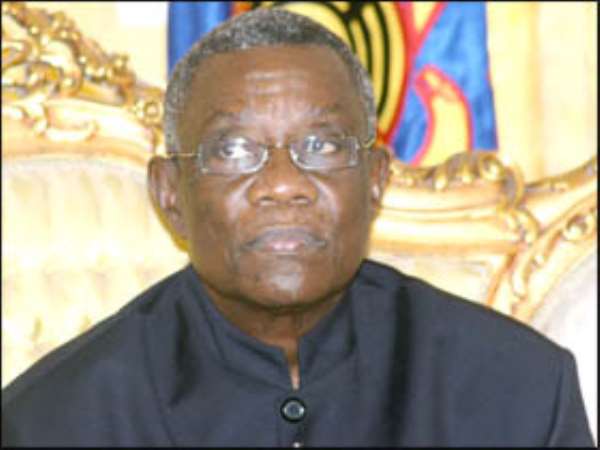 President John Evans Atta Mills
The president John Evans Atta Mills has accused the previous New Patriotic Party government of leaving the country in a dire state.
According to him, the previous government piled so much debt and left a "big hole" in the economy, making it difficult for his government to maneuver.
President Mills said the economy is in such a sorry state that international banks have refused to lend money to the country for development projects.
He was addressing a group of Anlo Chiefs who paid a courtesy call on him at the Castle on Thursday.
In what is his first public comment after the 30 per cent hikes in fuel prices, the president said the increases were inevitable.
He alleged the country owes so much debt to oil suppliers that they are no longer interested in providing crude oil on credit.
The president said the hikes "were not to cause pain" to Ghanaians, adding there was no other alternative.
The president, then candidate Mills in the heat of the election2008 run-off promised to reduce prices of fuel "drastically" if he won the presidency.
But critics accuse him of rather increasing it drastically following a cumulative 40 per cent increase in prices.
Soon after winning the election, the president reduced taxes on petroleum prices, in line with his campaign promise, but the recent increases have raised doubts about the sustainability of fulfilling his campaign pledge.
The economic difficulties notwithstanding, the president gave the assurance his government is working tirelessly to pull the economy back on track.
Story by Nathan gadugah/Myjoyonline