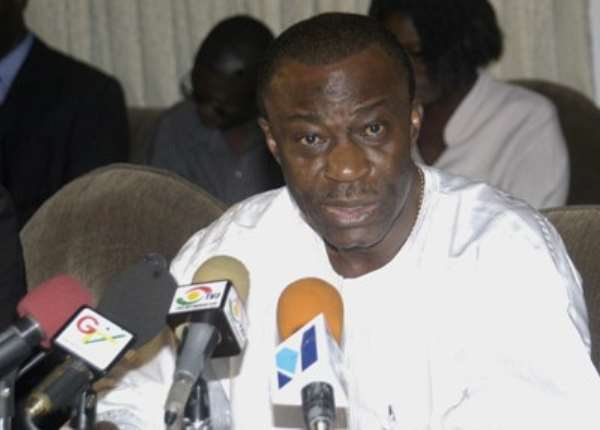 A Former Deputy Finance Minister in the erstwhile NPP administration, Dr. Anthony Akoto Osei
A Former Deputy Finance Minister in the erstwhile NPP administration, Dr. Anthony Akoto Osei, in a swift reaction to an accusations against the NPP has challenged Vice President John Mahama to go learn economics if he wants to talk about the Economy.
According to him, he was not shocked when he heard Mr. Mahama on air giving falsified figures about the economy because he has no single knowledge in economics. "With all due respect I think that the Vice President ought to seek advice from his men before coming out to peddle falsehood".
Dr. Akoto Osei, Member of Parliament for Tafo Pankrono in the Ashanti Region, challenged Mr. Mahama's statement of the Tema Oil Refinery [TOR] debt which the latter claimed currently stands at 1.3 trillion Ghana Cedis as fictitious and groundless, and one which must be thrown into the dustbin.
Speaking on Oman Fm's Morning show programme in Accra on Thursday, Dr. Akoto Osei emphasized that the vice President's remark was a well calculated attempt to divert public attention on the recent 30 percent increase in petroleum products, "He was just scoring cheap political points by peddling this falsehood to divert public attention from the recent price hike in fuel. They should better sit down and find solution to the myriad of challenges that Ghanaians are going through and stop the propaganda".
The law maker contended that juxtaposing the figures Mr. Mahama provided on Wednesday to that of the finance Minister, Dr. Kwabena Dufuor, which was presented to Parliament when the budget was read, clearly demonstrate how confused the government is.
"When they are coming to give such a public speech, I think they have to go through the documents we handed over to them very well before they come out to throw dust into the eyes of the good people of this country," Dr. Akoto Osei said.
Dr. Osei continued that the Vice President was just hurling innuendos to receive applause from his party supporters and not to present them with the true state of the economy. He further charged government to present the accurate figures and stop deceiving the public with 'cooked" figures pointing out that, it will do nobody any good should government continue this way.
The vice President on Wednesday asserted that the Tema Oil Refinery [TOR] owes approximately 11 Trillion Ghana Cedis and accused the former NPP government of mismanaging the economy. According to Mr. Mahama, government has well-endowed people who can "fix the mess the NPP has caused" arguing that, members of the NPP have no moral right to blame the NDC for increasing fuel prices.
"Their poor management style has caused us this hardship and we have no alternative than to increase the price," he told jubilant party supporters.