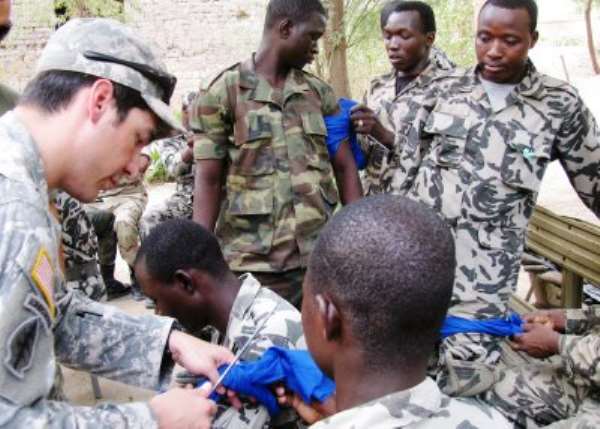 Increased attention on the White House Africa policy came days ahead of President Barrack Obama's first trip to the Continent as head of state, to Egypt on June 4 and then to Ghana in July. The Africa policy has been a source of concern of analysts since the first days of Obama's administration mostly over the U.S. African Command (AFRICOM), an initiative started by former President George W. Bush, the US Department of Defense and led by four-star General William "Kip" Ward, a Black man.
According to AFRICOM'S website, Africa has grown globally in military, strategic and economic importance. For the U.S. it makes strategic sense to help build the capability for African partners, and organizations such as the "Africa Standby Force", to take the lead in establishing a secure environment. "This security will, in turn, set the groundwork for increased political stability and economic growth."
But opponents question the idea based on historical involvement of the US in proxy wars such as in Somalia and the Democratic Republic of Congo. The Initiative is widely viewed as America's

attempt to militarize Africa in order to remain an economic competitor against the European Union and China, under the cover of fostering peace, security, combating terrorism and fighting the narcotics trade in West Africa.
In a May 12 press briefing, AFRICOM unveiled an adjusted plan designed to gain support from African nations that initially rejected the proposal from the former Bush government.
AFRICOM admitted the program "didn't get rolled out very well" at the time by the last administration.
"You know when you work in Africa, consultation is an important thing. You better go and listen and have about ten cups of tea. And that probably did not occur" said Ambassador Mary C. Yates, AFRICOM's, then Deputy to the Commander for Civil-Military Activities.
When the program was launched, some African nations responded with caution and others such as Libya, Nigeria and South Africa flatly refused any US military outpost on African soil.
Currently AFRICOM is head-quartered in Stuttgart, Germany, remaining there while American officials shop for a home base in Africa.
Observers also fear the US inclination toward a divide and conquer approach to Africa based on AFRICOM's emphasis of developing relationships with "individual member states" and "regional bodies" over a broad agreement with the African Union (AU).
"Any dialogue should be with the AU, I do not think there is any room for negotiation with regional bodies; AFRICOM is about the continent, it is not West AFRICOM, East AFRICOM or North AFRICOM, so the point of view of the Au should be fundamental in all of this", said Bill Fletcher, labor activist and the former President of Trans-Africa Forum.
"They want to find some poor impoverished country that desperately needs foreign assistance and they want to use that country as a base, if you deal with the AU that becomes a different dynamic."


What's more, a US military command in Africa is an affront to the African Union's purpose which exists to facilitate Africans solving their own problems according to Mark P. Fancher, Coordinator of the AFRICOM Task Force for The National Conference of Black Lawyers.
"If they truly respect the AU they would let the African Union attend to Africa's security needs, the US has no more business roaming around the African Continent trying to protect it, then the African Union would have in sending over African troops to sort of roam around North America looking for conflicts to put down", Mr. Fancher said.
"Let them mind their own business; let the US military secure US boarders and let Africa secure its own borders, that's the reason the African Union exist and Africa is perfectly capable of taking care of itself if it is allowed to do so."
In an effort to distance itself from the mistrust and suspicion, AFRICOM announced to foreign journalists that it had "reorganized", "repackaged" and renewed the program, strengthening protection of interests of governments who sign on to the plan.
"Up until now," Yates said, "we were episodic in our military and security engagements on the continent…If we concentrate on Africa 24/7; we hope that we will be able to garner enough resources to be able to be a more reliable partner with the African nations."
"We still have to continue to prove that what we chose to do in our reorganization is going to be value added for our African partners", Amb. Yates said.
But Attorney Fancher doubts that AFRICOM has changed from the imperialistic aim of opening the way for western corporations to come and exploit Africa for its resources and wealth.
"You can dress it up, you can sell it better, but what it is, a vehicle that can be used to militarize Africa by proxy, the US Government is reluctant for a whole host of reasons to have its vultures on the ground in Africa", Attorney Fancher said.
"AFRICOM is the way that they can use African troops to do their dirty work for them."
Presently, AFRICOM is engaging South Africa, Ghana, Guinea Bissau, Angola, Mozambique, Cape Verde and Kenya for support. But only Liberia and the autocratic government of Egypt-where President Obama gave a major address to the Islamic world-appear to be promising, according to Amb. Yates.
However, irrespective of their intent, repackaging AFRICOM also requires changes in its militaristic implications towards more emphasis on a humanitarian mission opined Mr. Fletcher.
On the heels of President Obama's trips to Egypt and Ghana, advocates are hoping his popularity in Africa will help to resell AFRICOM. But critics doubt Obama's credibility will have any effect, maintaining that AFRICOM is fundamentally bad for Africa.
"Some governments will have the courage to simply say no, and they'll say it with a smile on their face and be very charming, there will be other governments that may be prepared to say yes but there will be resistance at the base, a kind of popular resistance", Mr. Fletcher said.
"I don't think that Obama's popularity alone would be enough to sway people unless there is a very significant change in AFRICOM's mission", Mr. Fletcher added.
"The best thing for AFRICOM to do is shut down and leave Africa alone" Attorney Fancher said.
Source: AFRICOM Re-packaged is still AFRICOM, http://globalpeeks.blogspot.com/
Global Peeks with Brian E. Muhammad
About Me
I am a writer on Foriegn Affairs & Host of The Sankofa Experience Radio Show