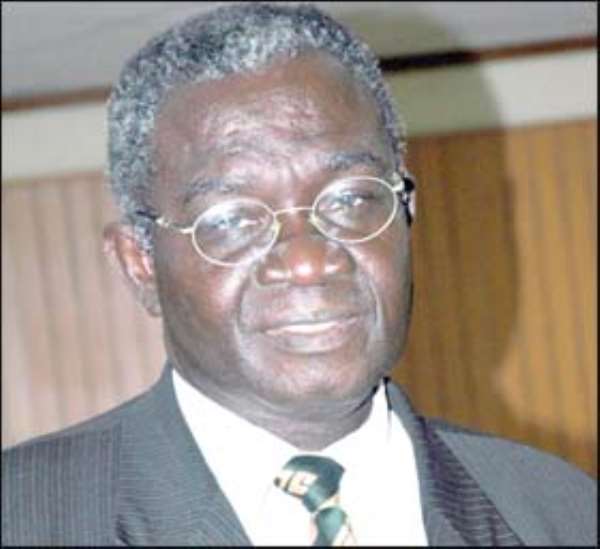 P.C. Appiah-Ofori
P.C. Appiah-Ofori, Member of Parliament (MP) for Asikuma/Odoben/Brakwa, yesterday incurred the wrath of his colleagues after making what they described as loose-talk on the floor of Parliament.
The New Patriotic Party (NPP) MP angered his colleagues during a contribution to a debate on the waiver of tax liability on equipment/materials to be imported and purchased locally amounting to €12,676,140.50; and cedi equivalent of corporate and expatriate taxes at the prevailing exchange rate for the Accra-Tema Municipal Area (ATMA) Rural Water Supply Expansion Project.
P.C. Appiah-Ofori who thought his views were being discarded on the matter sparked controversy in the House by imputing apparent negligence on the part of the other MPs, insinuating, "if we are not careful, we would one day sell Ghana for a penny".
However, in a clear case of instantaneous rebuttal, some of the legislators including Papa Owusu-Ankomah and Dr. Anthony Akoto Osei, MPs for Sekondi and Old Tafo respectively, rose to their feet vehemently condemning P.C. Appiah-Ofori for carrying himself as a "know it all" in a matter that was of national importance.
"He should not by any stretch of imagination think that he is the only person with exclusive preserve of wisdom and who has the nation at heart. We all love the nation and are working in the interest of the country.
I respect his opinion but it is the views of the majority that matters," Papa Owusu-Ankomah told P.C. Appiah-Ofori in a baritone voice, calling him to withdraw the offensive statement.
Virtually eating the humble pie, the Asikuma/ Odoben/Brakwa MP who many have described as "transparency and accountability" MP simply retreated, "I will withdraw the statement".
The House later approved the motion for the waiver of the taxes to pave way for the Accra-Tema Municipal Area Water Supply Expansion (South and North Kpong) Project.
Presenting the report of the Finance Committee before the approval of the motion, Chairman of the Committee, Hon. James Klutse Avedzi said members have carefully considered the request for the tax waiver and that it was consequential to the loan and Grant Agreement approved by the House in March 2008, and a necessary condition for the smooth implementation of the ATMA water projects.
The Kpong Water Treatment Plant serves all communities along the Akosombo-Kpong Tema main road including the Accra Plains Area, the coastal areas east of Tema and the Kpong-Akuse area including Manya and Yilo Krobo areas of Odumasi and Somanya in the Eastern Region.
It also serves the Akwapim Ridge in the Eastern Region and Dodowa in the Greater Accra Region.
In all, more than 30 communities would benefit from the project by receiving good drinking water when completed by 2011.
By Awudu Mahama