June 6, 2009
|
Feature Article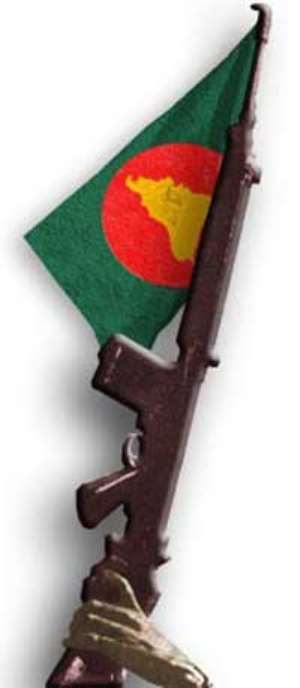 In every year 7th June comes and goes away following its calendar route. Every year Bangladesh Awami League observes the day. Many of people don't know about the specialties of the 7th June. If this day did not come in our life we might be confused whether our freedom would come or not. The 7th June of 1966 did not come all on a sudden in the life of Bengalis and the significance of the day shall in no way be diminished.
I was the student of Fazlul Haque Hall of Dhaka University. My room number was 232. Public leader Abdur Razzak was the student of same hall of Dhaka University and he was the General Secretary of Student League. Late Antaj Ali of Satkhira District, Late Abdul Kuddus Makhon, Abdul Khalek, American citizen Sajol and Seikh Selim were the students of Fazlul Haque Hall. Late Fazlul Haque Moni, Sirajul Alam Khan, Ferdoush Koraishi Noor-A-Alam Siddik and Al-Amin used to come this Student Hall frequently.
Sheikh Mujibur Rahman came to the front line after proclaiming his 5 points demands for Bengalis on the 5th February 1966. He had to suffer a lot for this. In spite of bearing so much suffering he visited whole Bangladesh with his 6 points demands. During this period, he was arrested many times a week. Finally he was permanently arrested for long time. At the same time maximum student leaders of student were also arrested. Pakistan Government was trying to finish and destroy Awami League and Student League. But a rural housewife provided with her maximum support to keep alive the party and she was Begum Sheikh Fajilatunnesa Mujib.
Sheikh Mujib ordered to observe Hartal on 7th June. One day Sheikh Moni and Sirajul Alam Khan came at Fazlul Haque Hall and we arranged a meeting, we discussed in detail and made plan to observe Hartal. But Pakistani Intelligence Force and NSF came to know everything. Finally in one night, police and intelligence force surrounded our Hall. Sirajul Haque was not so famous leader so he escaped easily but Sheikh Fazlul Haque was a famous student leader and General Secretary of Student League and also the nephew of Sheikh Mujib. So it was difficult for him to escape from the Hall. Finally we decided I would go to Agamsi Lane with him because everybody knew I was a good student. Selim Vi was with me. We helped Moni Vi to wear a fake dress to disguise himself and thus we easily escaped from the Hall in front of the police.
It was true that whole country was ready for a movement and it was proved on the 7th June 1966. As per instruction of Sheikh Mujib we were ready to observe the Hartal on 7th June. Most of the leaders were in jail. So few leaders observed Hartal on 7th June with general people. People chose the day for a change in their life. We completed our all preparations within 6th June. I had my duty with Razzak, Monir, Makhon, Sajol to stop the vehicles in front of High court. At morning I reached high court and start picketing. I set two buses on fire. Abdur Razzak Vi told me "we must keep it up to 8:00AM then it will be finished by Tokay (one type of street children)".
Suddenly Razzak Vi pushed me on the road but I did not understand why he did so. When I asked, he replied if he did not do it I might die as I was in the gun point of a police man. This moment helped me for getting a change and I promised that I had to save my country from Pakistan. At afternoon, police arrested me. Motia Choudhury came at Kurjon Hall in afternoon and she supported our mission. She inspired us. Many things I forget but some moments are not forgettable and the 7th June 1966 is one of them.
Vice Chancellor Dr. Abdul Mannan Chowdhury; Convener, Bangladesh Social and Historical Research Centre, Email: [email protected]
Read Professor Dr. Abdul Mannan Choudhury's Article by Bengali:
"Memorable 7th June 1966"
http://www.wub.edu/Smriti%20Patay%207th%20June%201966.pdf
Bangladeshi Professor Dr. Abdul Mannan Choudhury, a ''Live Defender'' by Hasanuzzaman Talukdar Shemul
http://www.modernghana.com/news/215164/1/bangladeshi-professor-dr-abdul-mannan-choudhury-a.html
About Author Professor Dr. Abdul Mannan Choudhury: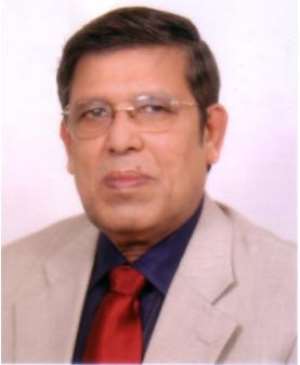 Vice Chancellor Dr. Abdul Mannan Chowdhury; Convener, Bangladesh Social and Historical Research Centre
Professor Dr. Abdul Mannan Choudhury is an alternative name of "Live defender" served in University of Dhaka as a professor for 37 years. Professor Choudhury was born in a successful family in Comilla district of Bangladesh. He also served Bayero University, Nigeria as Head of Department, Academic Dean and Syndicate Member. He was the Proctor of Dhaka University, Syndicate Member of Dhaka University, Member of Finance Committee, Founder Director of Evening MBA study, Founder Chairman of Department of MIS, Founder Chairman of National Management Association, Bangladesh Commerce Education Society and Founder Chairman of a Government Bank of Bangladesh. He is also an excellent writer and columnist. Dr. Choudhury was a freedom fighter too. He was the Assistant Commander (and was commander for few months) of Mujib Bahini (Bangladesh Liberation Force) of eastern side of Bangladesh in the 1971 Liberation War of Bangladesh. He was also involved in six points movements in 1966 and eleven points´ movements in 1969. At present, Professor Dr. Abdul Mannan Choudhury is serving as Honorable Vice Chancellor in World University of Bangladesh. It´s one of the most popular and leading universities in Bangladesh. He is idea maker of "Utilitarian Education" for Economic Emancipation in Bangladesh. Present government of Bangladesh has formed a seven member advisory board for the National Freedom Fighters' Council (NFFC) with Prime Minister Sheikh Hasina and Professor Choudhury is also present Advisor of Freedom Fighters´ Advisory Council and it´s formed with the Prime Minister Sheikh Hasina as its chief. He is also Convener of Bangladesh Social and Historical Research Center.