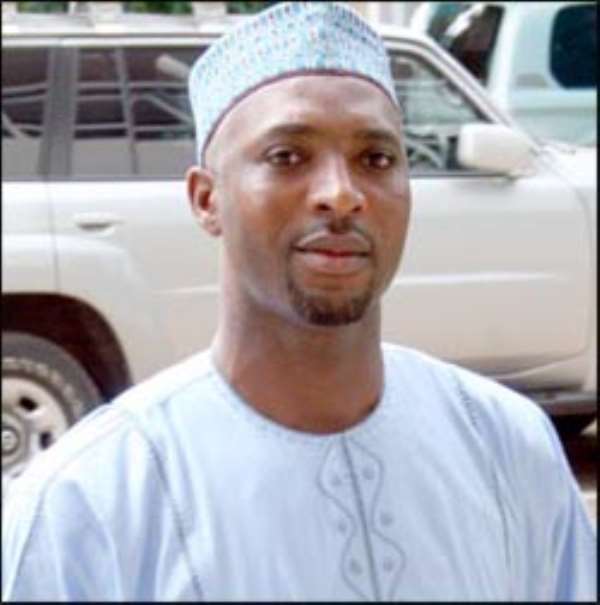 Minister of Youth and Sports Mubarak Muntaka
According to Ho Chi Minh - the late former Prime Minister and President of Vietnam - "if you stood by the banks of a river for long enough the bodies of all your enemies will flow by." Fortunately for the Hon. Minister of Youth and Sports and MP, Mubarak Muntaka he didn't have to stand by a river bank to see the bodies of his enemies; any such attempt would be futile because he would have been dead by the time those bodies floated by.
But that is exactly what has happened. He is badly mauled by allegation of crookedness. The minister did not have the luxury of time, but he had the benefit of history and he was warned.
Here's an excerpt from an email I got from a well connected sports journalist and friend when I spoke to him over the accusations – "I warned you about this a long time ago and you were very dismissive. Now it has come to pass and look at the circumstances. Don't be disappointe d because he had it coming and I kept telling you about what was going on"
Well, there's arguably precedence in the Mallam Issah saga. What has happened is not surprising, what is surprising is the celerity of the plot against Hon. Mubarak. We all knew about the gamut attempts by some persons in the sports fraternity to discredit him. For instance a paper like 'Ghana Soccer net' repeatedly carried stories about an impending FIFA ban on Ghana because of the minister's actions; this was reported with the view to make him look bad. Unfortunately, and like the GNA story on Yahuda security, the rest of the media curled these reports from soccernet.com about a looming FIFA ban on Ghana and widely publicised them without running checks on the authenticity of the claims.
One of the difficulty Ghanaian public servants have is the overwhelming burden of demonstrating that allegations made against them were false. Mubarak Muntaka has the enormous burden of proving his innocence over the widely publicised allegations of unscrupulousness.
Politics is very intrusive but many people still go into it because of what they believe in and what they feel they can contribute – Mubarak Muntaka is one of them. This is a man with a fine reputation; a self made businessman who had successfully built his cluster of businesses from scratch and like his father (my gramps) devoted his time to the service of his community. He is a studious Sunni-Muslim and that is what makes many of the allegations lamentable. This is the most severe crisis in his public life and a great deal of damage would have been done to his career if it turns out th e allegations are false.
There's a long standing misconception that if someone were accused of a crime it meant they are guilty. President Mills is a very resolute and fair leader, he believes in our laws and the law of God. The President believes in the principle that "It is better to set a guilty man free than to crucify an innocent man." That is why he gave Mubarak a chance to defend himself. Professor Mills has been an advocate of fair hearing and would weigh the facts of the case.
We must be slow in passing judgement on Hon. Mubarak (I say this not because he's my uncle and party colleague) and indeed anyone accused of sleaze without assessing the full facts and circumstances. A person may be unaware of procedures, that is not an excuse in law but in the end a judgement on this unfortunate incident would hinge on the criminal law term "premeditation."
The governing NDC must now learn from this, it has an opportunity to recalibrate the history of the ministry and to clean it up, especially the football wing of the ministry. The scale of the scandal is enough prompting to immobilize the suspected 'mafia group' and rogue elements operating in the sector. This faceless mafia group within the various ministries must not get away with any scheming – not this time.
Here's my piece of advice – every minister must request to shuffle some of its staff – it is within normal administrative practices to reassign secretaries, administrators and accountants to other offices or departments. Ministers and senior officers who refuse do so at their own peril.
The public is angry and you can understand that. People are finding it difficult to make ends meet and cannot be expected not to be angry when they read reports about sleaze by public servants who are expected to be catalysts for progress.
But it is dangerous to be arbitrary about Mubarak's case or anyone other case of suspected act of misconduct. We have history to guide us against arbitrariness. I believe there's a lot of truth in what President Mills said when he came to the UK about a large section of our press – "do not believe everything you read in the papers or hear in the media."

Ras Mubarak
PUBLICIST,
Public Relations – NDC Europe
[email protected]