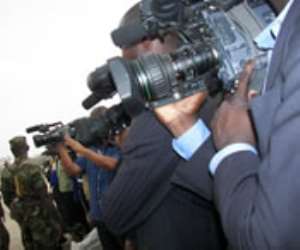 Two reporters from Daily Guide News paper were on Tuesday morning detained by the Bureau of National Investigations (BNI) for allegedly breaching security.
Deputy Information Minister, James Agyanim Boateng told Joy News the two were "idling about the walls of the BNI."
Awudu Mahama, Parliamentary correspondent and Emmanuel Kubi, a Photo-journalist were picked up around 10:00 am and held at the offices of the BNI for hours.
Awudu Mahama told Joy News' Evans Mensah they were picked up under a tree where they had bought groundnuts and were enjoying.
They were returning to parliament from the residence of the minority leader which was close to the BNI office.
He said four BNI officials, hi-jacked his colleague by the trousers and were together sent to the office for interrogation.
Their phones and other personal effects were taken away from them and returned two hours later.
According to Awudu Mahama, they were cautioned not to hover around security installations and were later released.
Mr. Agyanim Boateng who confirmed the incident said the two journalists were "educated not to hang around security zones."
He said the CCTV camera installed at the BNI office captured the two men hanging around the walls of the office and decided to pick them up.
"It was only after they were invited that they got to know they were journalists," the Deputy Minister said.
He said they were not harassed whilst in detention and the action by the BNI was not to intimidate the journalists.
Story by Nathan Gadugah/Myjoyonline