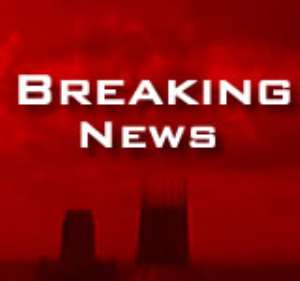 Accra, June 2, GNA – Several former ministers under the New Patriotic Party (NPP) government and dozens of party faithful on Tuesday marched to the Bureau of National Investigations (BNI) to demand the whereabouts of the former Chief of Staff, Mr. Kwadwo Mpiani, who is being questioned by the security agency.
The NPP ministers had said Mr. Mpiani had been at the BNI since 1100 hours and they had not heard from him by 1900 when they went there.
But Deputy Information Minister, Mr James Agyenim-Boateng said Mr Mpiani was only being questioned by the BNI on "a wide range of issues" and dismissed claims by former Information Minister, Mr Stephen Asamoah-Boateng that the former Chief of Staff had been taken to an unknown destination.
Mr Agyenim-Boateng said Mr. Mpiani was being represented by three lawyers, and the questioning started at about 1300 hours and not 1100 hours. This was because Mr Mpiani had indicated that he would come to the BNI on Monday but came on Tuesday when some other people had already been scheduled to appear.
He said the questioning was being done with breaks and Mr Mpiani could not be reached on his phone because as a normal routine, phones are deposited at the reception.
Mr Agyenim-Boateng said Mr Mpiani went to the BNI voluntarily and had neither been arrested nor charged.
Mr Frank Agyekum, former Deputy Information Minister, said the ministers, who normally met on Tuesdays under the chairmanship of Mr. Mpiani, were showing solidarity with their leader.

By: GNA

Ex-chief of Staff, Mr. Kwadwo Mpiani

Former Ministers gang up at BNI HQ
Former ministers under the erstwhile Kufuor administration have converged at the BNI office where ex-chief of staff, Kwadwo Mpiani is held for questioning.
The ex-ministers and NPP sympathizers numbering about 200 stormed the office at around 18:00 GMT and demanded to know the whereabouts of the ex-chief of staff.
They included Dan Kweku Botwe and Stephen Asamoah Boateng, two former information ministers, Dr. Addo Kufuor, ex-Defence Minister, Mrs Gladys Asmah, ex-Fisheries Minister and a host of others.
Mr. Mpiani in the company of his lawyers, Yooni Kolendi and Egbert Faibille Jnr were said to have reported at 11:00 am on Tuesday and has been held close to nine hours and counting.
The BNI a week ago invited the ex-chief of staff to report for questioning over alleged acts of misappropriation, but he could only report today due to family engagements.
Former information minister, Asamoah Boateng said they cannot tell the where about of Mr. Mpiani.
He suspected he had been "smuggled" out of the BNI office as persistent calls to the ex-chief and his team of lawyers have not been answered.
Mr. Kwamena Bartels ex-Works and Housing Minister, proposed three of the ex-ministers be allowed entry into the offices of the BNI to ascertain the condition of Mr. Mpiani, but that according to the Greater Accra Police Commander, ACP Rose Atinga was not possible.
Mr. Bartels is therefore demanding they be left alone at the entrance of the BNI.
'Action illegal'
Government is appalled with the action taken by members in opposition.
Describing the action as illegal, Deputy Information Minister, Samuel Okudzeto Ablakwa, told Joy News he is surprised members who espouse the principles of rule of law and democracy could be acting this way.
He said Mr. Mpiani has only been with the BNI for just about 12 hours and not the 48 hours stipulated by law.
Under the country's laws suspects are not supposed to be held in custody for over 48 hours.
James Agyanim Boateng, another Deputy Information Minister early on told Joy News the action by ex-ministers is to "create disaffection towards the BNI and the government."
He insisted Mr. Mpiani is at the BNI HQ answering "series of questions."
He would not tell the kind of questions the ex-chief of staff is supposed to be answering but said he has not been charged for now, and that Tuesday's questioning has nothing to do with his "innocence or guilt."
Pandemonium
Armed police personnel have swamed the BNI office at 19:17 GMT to maintain law and order after reports that NPP supporters had joined their idol MP's and ex- ministers to chant and protest the detention of Mr. Mpiani.
Joy News reporter, Sammy Darko said the Greater Accra Regional Police Commander, ACP Rose Atinga addressed the ex-ministers and called for calm.
ACP Atinga said the "situation is not frightening."
But roads leading to the BNI HQ have been closed.
Story by Nathan Gadugah/Myjoyonline